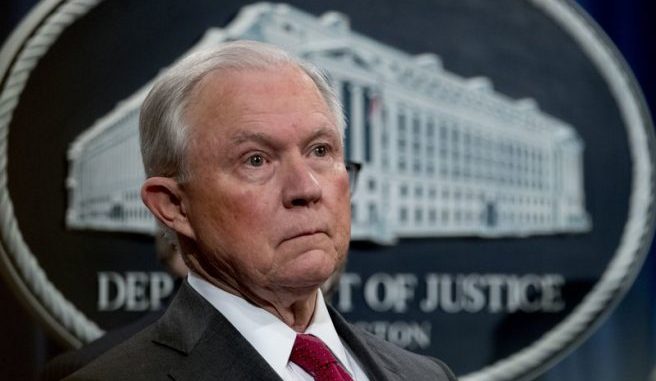 OAN Newsroom
UPDATED 12:00 PM PT — Sunday, May 24, 2020
President Trump has ramped up his criticism of former Attorney General Jeff Sessions as the debunked Russia hoax continues to fall apart. On Sunday, the president said Sessions wasn't "mentally qualified" to lead the Justice Department and suggested his time in office was a "disaster."
He claimed the former attorney general put the wrong people in top DOJ positions. The president also said Sessions wasn't helpful in fighting high government corruption in Washington.
"What am I doing? I'm fighting the deep state, I'm fighting the swamp. …Ratcliffe is fantastic. If it keeps going the way it's going, I have a chance to break the deep state. It's a vicious group of people, it's very bad for our country." – Donald Trump, 45th President of the United States
The president concluded his remarks by saying Sessions was the biggest problem at the Justice Department.
"Jeff Sessions was a disaster as Attorney General. He should've never been Attorney General, he's not qualified, he's not mentally qualified to be Attorney General" — wow, what idiot gave Sessions that job in the first place? pic.twitter.com/uNsLhvgpyv

— Aaron Rupar (@atrupar) May 24, 2020
Earlier in the week, President Trump took to Twitter to express his frustration with the former attorney general. In a string of tweets Saturday, he said Sessions recused himself "on day one and ran for the hills."
He went on to call Sessions "slime" and demanded he drop out of the Alabama Senate race.
….price. You should drop out of the race & pray that super liberal @DougJones, a weak & pathetic puppet for Crazy Nancy Pelosi & Cryin' Chuck Schumer, gets beaten badly. He voted for impeachment based on "ZERO". Disgraced Alabama. Coach @TTuberville will be a GREAT Senator!

— Donald J. Trump (@realDonaldTrump) May 23, 2020
The president also praised the Republican politician's 2020 opponent, Tommy Tuberville, who he said will be a great senator.
The exchange came after Sessions recused himself from the Russia probe back in 2017, a move President Trump claimed "ruined many lives." He expressed this recusal "let our country down" by prompting what he called the "fraudulent Mueller scam."
The president added, "Do not trust Jeff Sessions."
3 years ago, after Jeff Sessions recused himself, the Fraudulent Mueller Scam began. Alabama, do not trust Jeff Sessions. He let our Country down. That's why I endorsed Coach Tommy Tuberville (@TTuberville), the true supporter of our #MAGA agenda! https://t.co/pCi7jftce2 https://t.co/sAn1VbxNwc

— Donald J. Trump (@realDonaldTrump) May 22, 2020
Meanwhile, the former attorney general has doubled down on his choice to opt out of the Russia investigation. He recently dismissed the president's remarks and said it's up to Alabama to choose their representative when they cast their votes in July.
However, early polling showed Sessions behind in the polls.
Tuberville's a coward who is rightly too afraid to debate me. He says you're wrong on China & trade. He wants to bring in even more foreign workers to take American jobs. That's not your agenda and it's not mine or Alabama's. I know Alabama. Tuberville doesn't.

— Jeff Sessions (@jeffsessions) May 23, 2020