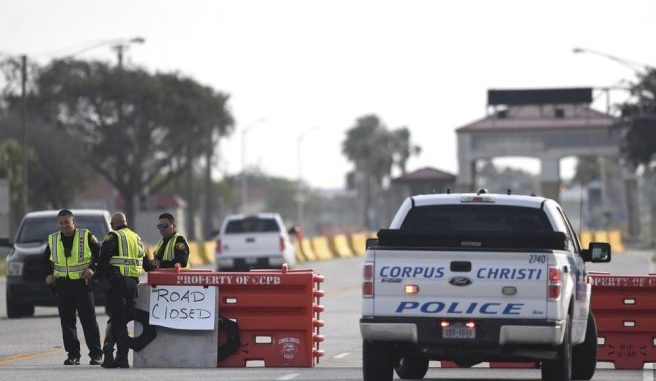 OAN Newsroom
UPDATED 6:48 AM PT — Friday, May 22, 2020
A gunman opened fire at a Texas naval air station, wounding one security force member in what's believed to be a "terrorism related" attack. On Thursday morning, authorities responded to an active shooter at naval air station Corpus Christi.
According to the U.S. Navy, the male gunman, who was not identified by law enforcement, was fatally shot at the scene after trying to storm the gates of the base in his vehicle.
A barrier was deployed as an attempt to stop the vehicle before the suspect exited and exchanged gunfire with security personnel. A lockdown was implemented as a result, but has since been lifted.
While speaking at a press conference, the FBI determined terrorism was the motive behind the incident as a potential second person of interest may be at large in the community.
"We may have a potential second related person of interest at large in the community, but we would encourage the public to remain calm and if you see something, say something," said Leah Greeves, FBI Special Agent. "Because this is an ongoing investigation, we cannot provide any additional information at this time, but I assure you that you have an absolutely awesome brotherhood of law enforcement working together because the safety of Corpus Christi is paramount to each of us."
The FBI did not elaborate on what led investigators to believe it was terrorism related nor as to why they believe a second person is involved.
Meanwhile, the injured female sailor is reported to be in good condition and has been released from the hospital. Military officials said she was struck by a bullet, but was saved by her protective vest.
The Justice Department is now working alongside the FBI and local state agencies as an investigation remains underway.
I know the base at Corpus Christi well. As a Texan and retired Navy Rear Admiral this hits close to home. We must stay vigilant in our fight against those that subscribe to the dangerous ideology of terrorism. Grateful to the brave security forces that undoubtedly saved lives. https://t.co/FTgvkWg4ny

— Ronny Jackson (@RonnyJackson4TX) May 21, 2020
RELATED: FBI discovers Al-Qaeda ties in Pensacola gunman's iPhones