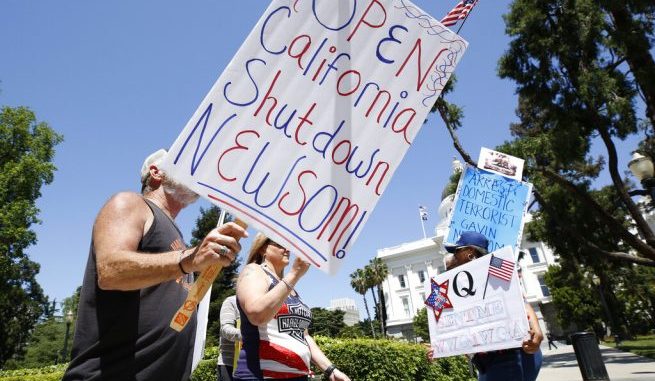 OAN Newsroom
UPDATED 7:04 AM PT — Monday, May 11, 2020
It's no doubt California protesters want the state to reopen, but now some residents are taking legal action against Gov. Gavin Newsom (D).
The Democrat now faces a slew of lawsuits over his handling of the ongoing pandemic. A civil rights attorney in the Bay Area has filed half a dozen lawsuits claiming Newsom's current orders are an infringement on human rights.
"The governor is overreaching on a number of grounds," said civil rights attorney Harmeet Dhillon. "The governor has chosen to limit protests to zero in this state, which is outrageous and absurd."
The governor recently began stage two of reopening the state's economy, but some businesses are questioning why they were not included in this phase.
"This whole thing started in the state of California, the first community spread in a nail salon," Gov. Newsom claimed.
Nail salons statewide are now planning to sue the governor after he claimed the origin of coronavirus in the state stemmed from the salons.
"I think my brain stopped working and I was saying, what the hell?" explained Kelvin Pham, producer of the "Nailed It" documentary which explores the history of Vietnamese salons. "I never heard anything like that before."
Salon owners have said Newsom's statement can be detrimental to its future business and are demanding the evidence behind his claim.
"Second thought is the impact, the impact of his remark, what it can have not only on the nail industry, but particularly the Vietnamese nail industry," said Pham. "We came here to this country as refugees, left our country not because we want to, but because we had to."
Meanwhile, the governor has also recently announced his plan to help illegal aliens during the outbreak. Judicial Watch, along with several taxpayers, is now taking legal action against the governor's plans to provide millions in legal aid to illegal immigrants.
Newsom wants to spend #coronavirus emergency tax $ on cash for illegal aliens AND assaults clean elections through mass mailing of ballots PLUS Court should hold @genflynn's persecutors in criminal contempt.@foxandfriends @JudicialWatch @realDonaldTrump https://t.co/kr6Jj0C3iH https://t.co/vPWUFyJYcJ

— Tom Fitton (@TomFitton) May 10, 2020
The conservative activist group recently filed a restraining order in hopes to prevent Newsom from $75 million in cash payments to undocumented immigrants.
"We have universal health care, regardless of immigration status, that we expanded last year up until the age of 26 and clearly as you know from my budget, we want to do even more," Newsom stated.
California's stay-at-home order is has no set end date, but the Democrat governor said stage three of reopening could be just a month away.