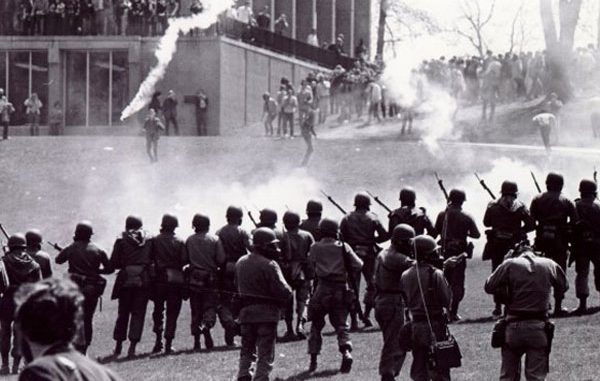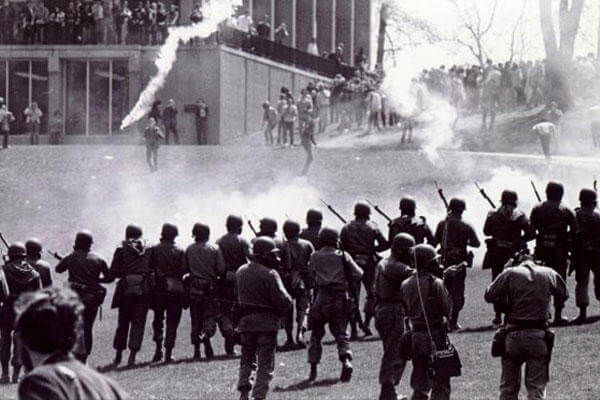 "What if you knew her /// And found her dead on the ground ///
How can you run when you know?"
"Ohio" (1970) –Crosby, Stills, Nash and Young
The search for justice thrust upon a young Laurel Krause has now reached a half century.
On May 4, 1970, a group of Ohio National Guardsmen opened fire at Kent State University, cutting down four students and wounding nine others. Among the dead was 19-year-old Allison Beth Krause.
"I want the government to tell the truth about what happened," said Laurel Krause, 65, Allison's younger sister.
Allison Krause, a freshman honors student from Churchill, was in a campus parking lot, more than a football field removed from the soldiers clustered above campus. Their M1 rifles lowered, followed by a fusillade of 67 shots.
The 13-second midday barrage killed Krause; Jeffrey Miller, 20, of Plainview, N.Y.; Bill Schroeder, 19, of Lorain, Ohio; and Sandy L. Scheuer, 20, of Boardman, Ohio.
Anti-war protests swept college campuses across the nation over President Richard Nixon's decision to expand the war in Vietnam by ordering U.S. troops to invade Cambodia to attack a North Vietnamese base.
"My only sister was killed when I was 15," Laurel Krause, who lives in California, told the Tribune-Review. "I am here to stand and tell my sister's story."
A collection of stones rests atop Allison Krause's rose granite gravestone, which is etched with a Star of David and her name in Hebrew along with the words "Beloved daughter and sister."
A small American flag is planted in the ground at the right corner of her grave.
Her marker stands in front of the one for her parents in the Betty Rosenberg Parkway Jewish Center Cemetery, a small, solemn lot tucked in a Wilkins Township neighborhood.
The day before the shootings, Allison had talked with a National Guardsman who had a lilac protruding from the barrel of his rifle. An officer became upset and took away the flower, which Allison caught when he threw it down.
"Flowers are better than bullets," she was heard to say.
The epitaph, dated May 3, 1970, is carved across the bottom of her headstone.
The Unthinkable Unfolds
A crowd of about 3,000 gathered on or near the campus Common that day — which followed several days of tense protests.
Students clanged the Victory Bell, traditionally used to signify wins on the football field. The protest began with its first speakers.
"The powers that be decided that (protest) was never going to happen," said Gardner McLean, an Elizabeth Township native who was a Kent State freshman that year and a reporter for the student paper.
Soldiers first fired tear gas to disperse the crowd. Wind blew the plume back in their faces, McLean said. Some students threw canisters back at the soldiers. Others peppered them with rocks.
At some point, the National Guard moved down a hill, McLean said. The soldiers became boxed at a fence around the football field, and students were around them. Some soldiers pointed rifles at them. McLean saw members of the National Guard walk up the hill toward Taylor Hall. He walked around the side.
John Cleary, then a Kent State freshman from upstate New York, watched as the Guardsmen climbed Blanket Hill.
Now a Pine Township resident, Cleary said he intended to walk into nearby Taylor Hall but stopped briefly to watch the National Guard troop pass by.
McLean, of Bowling Green, Ohio, said he walked around the other end of the classroom building to get in front of the soldiers.
When they reached the top of the hill, some soldiers half-knelt and lowered their rifles, Cleary said.
"They kind of surprised everyone," he said, "and fired on us."
McLean heard, but did not see, what he assumed were gunshots.
"It was a volley," he said. "Then all hell broke loose."
He remembers watching Guardsmen prevent people from getting near the wounded and dead.
A bullet struck Cleary in the chest as he stood at the edge of a parking lot about 75 feet from the soldiers. The blow knocked him unconscious.
Students rushed to stanch the bleeding.
"They probably saved my life," said Cleary, who recovered over the summer and returned to Kent State in the fall, eventually graduating and working as an architect before retiring to operate his own consulting business.
Phil Mongell still wonders why National Guard members called to quell Vietnam War protests in Kent — located outside Akron, about 100 miles northwest of Pittsburgh — felt their lives were so endangered that they opened fire.
"The only place they shot people (anti-war protesters) was at Kent State. It was hard to believe," said Mongell of Uniontown, who was in class at the time.
He walked out of the classroom building not realizing what had just happened. Sirens wailed. He saw smoke.
"I could smell the gunpowder, and I could see that kids were wounded," Mongell said.
The next day, he learned his good friend, Bill Schroeder, had been killed.
The two had worked together on a "very boring" factory assembly line at Cleveland Powder Mill, making parts for pizza ovens.
Schroeder was in the Reserve Officer Training Corps, or ROTC, but he was not in favor of the Vietnam War, Mongell said.
"Bill would put anti-war slogans on the front of the ovens" during the second shift, and workers on the day shift would respond with their own messages like, "Our Country Love It or Leave It."
"To shoot indiscriminately into people, that was murder," Mongell said. "It was so sad he did not get to live his life."
Remembering Allison
Allison Krause was born in Cleveland, and her family later lived on Beulah Road in Churchill in the mid-1960s. Her father worked at the nearby Westinghouse Electric Co. research and development center.
Arthur Krause took a job at a Westinghouse plant near Baltimore while Allison was attending Churchill High School. She graduated from a high school in Silver Spring, Md. The family returned to Churchill in the summer of 1969, when her father was transferred to a Westinghouse plant near Greensburg.
Allison was remembered as "pretty, smart and friendly" in a recent message posted by Deborah Talarico on a Churchill High School Facebook page.
She worked at the former Joseph Horne Co. store at Monroeville Mall during spring break, shortly before returning to Kent State, one Churchill grad said.
Laurel Krause recalled that her father and Allison had the kinds of clashes that were typical for the times. Allison was more liberal and came to be against the war. Her father was more conservative and supported the U.S. involvement in Vietnam. Allison wanted to go to the Woodstock music festival in August 1969. Her parents stopped her from going.
Allison, an artist, wanted to transfer to the New York state university in Buffalo to study art therapy "as a way of healing people," said Laurel Krause, who visited Allison for her sister's 19th birthday, just two weeks before her death.
Laurel Krause recalled that Allison had talked with her father the weekend before the shooting. In reaction to the news of the protest and rioting in downtown Kent, Arthur Krause told his daughter to be careful. Allison reassured him and said she did not participate in the May 1 protest downtown, in which windows were busted and some stores were looted.
As for May 4, 1970, Laurel Krause said she was not surprised her sister attended the protest rather than remaining in class.
"She was very strident. She knew she had to be there," Laurel Krause said. "It was a fight against the Vietnam War."
Mission Continues
Officials had banned the May 4 protest after the Ohio National Guard had been called to quell a weekend of disturbances, which included rioting in downtown Kent and the burning of the Kent State ROTC building May 2.
Controversy surrounds the actual events that sparked the gunfire, including who gave the order to fire. Laurel Krause believes the authorities, including the Ohio National Guard, wanted to send a message to the anti-war movement that it would no longer tolerate the protests and the associated violence.
"It was targeted assassinations and extrajudicial execution," she said. "The government is not allowed to kill protesters."
No members of the Ohio National Guard were ever convicted. A federal judge in Cleveland in 1974 dismissed charges against eight former Guardsmen, saying the government did not prove "beyond a reasonable doubt" there was a specific intent to deprive students of their civil rights.
Nine years after the shootings, a $20 million civil lawsuit that families of the deceased and wounded filed against the National Guard was settled out of court for $675,000.
Krause said they agreed to a settlement to provide money to help the wounded students pay their medical bills.
"It's frustrating," said Cleary, who attended the trials.
The justice system was "almost rigged against them," he said. "Their sympathies were for the Guardsmen. The people's minds were already made up."
At the time, Arthur Krause, who died in 1988, was quoted as saying he wanted the truth to come out in the trial, and it did not.
"My father wanted to show the younger generation you could find justice through the courts," Laurel Krause said.
It is a pursuit she continues today.
Laurel Krause had planned to host the Kent State Truth Tribunal on Monday at an off-campus location — a counter to ceremonies the university had planned over the weekend and on the 50th anniversary before being nixed by coronavirus restrictions.
She wanted her event to coincide with the official commemoration ceremonies Kent State had planned, "to tell the truth of their side of the story."
"I will do this until the day I die," Laurel Krause said. "It was a central moment in my life. I'm standing with my sister."
This article is written by Joe Napsha from Tribune-Review, Greensburg, Pa. and was legally licensed via the Tribune Content Agency through the NewsCred publisher network. Please direct all licensing questions to legal@newscred.com.
© Copyright 2020 Tribune-Review, Greensburg, Pa.. All rights reserved. This material may not be published, broadcast, rewritten or redistributed.