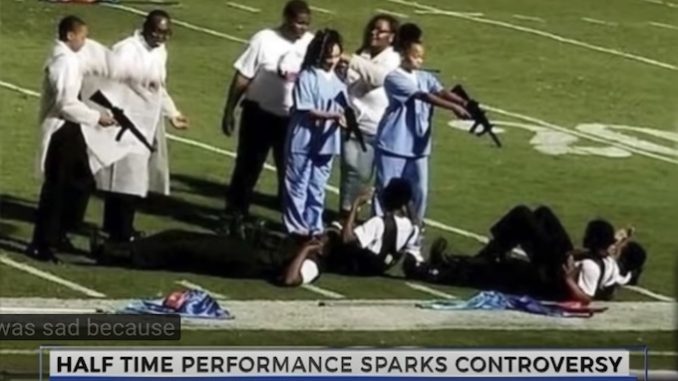 by Associated Press        Washington Times
By – Associated Press – Saturday, October 6, 2018
BROOKHAVEN, Miss. (AP) – A high school band's halftime performance depicting police being held at gunpoint is fueling anger in a Mississippi city where two police officers were recently slain.
Pictures of the Forest Hill High School band's performance circulated on social media Saturday, showing students dressed as medical personnel holding SWAT team members at gunpoint as the band played.
The performance took place Friday at a football game between Forest Hill and Brookhaven High School, just days after two Brookhaven officers were killed while responding to reports of shots fired at a home.
Jackson Public Schools Superintendent Dr. Errick L. Greene apologized Saturday in a statement and acknowledged the skit was "insensitive."
Greene said the performance was based loosely on the movie, "John Q," and depicted a hostage scene that included toy guns. In the movie, a father portrayed by Denzel Washington takes hospital staff and patients hostage as he tries to force doctors to do a life-saving transplant on his son, a procedure that his insurance won't cover.
Widget not in any sidebars
"JPS has a great deal of respect and appreciation for our law enforcement partners," Greene said.
"The band's performance does not depict the values and people in our community, and was incredibly insensitive to the students, families, law enforcement officials and the entire Brookhaven community. For this we sincerely apologize to all, and we pledge to do better in the future."
Brookhaven Mayor Joe Cox said he has spoken with Jackson Mayor Chokwe Lumumba, who informed him that the Forest Hill band director has been placed on administrative leave pending an investigation. He added that the mayor apologized to him personally for the halftime show.
"I offer my sincerest regrets to the Brookhaven community for the insensitivity that (was) portrayed during the Friday evening halftime show. There is an active investigation into the circumstances that led to this performance," Lumumba said in a statement Saturday. He added, "It is the responsibility of adults to offer guidance to youth. Our students should have been instructed that this was neither the time or place for that performance."
Brookhaven is about 55 miles (88.5 kilometers) south of Jackson, the state capital.
Gov. Phil Bryant, in a post on Twitter, said someone should be held accountable.
"This is unacceptable in a civilized society," he said.
The Mississippi Department of Education issued a statement late Saturday, saying: "This performance was in poor taste and insensitive, and we expect better of our teachers and school leaders who are responsible for guiding students appropriately," the Clarion Ledger of Jackson reported .
Republican state Sen. Sally Doty of Brookhaven wrote Saturday on Facebook that she will file complaints with the administration of Jackson Public Schools, Forest Hill High School and the Mississippi High School Activities Association.
"How could any administrator think that halftime show was appropriate?" Doty wrote.
Another Republican state senator, Angela Hill of Picayune, wrote in response to Doty's post: "No common sense. File it. Culture war."
Many people, in comments on Facebook, said they were shocked and outraged by the performance.
Jackson City Councilman Melvin Priester Jr. said he'd spoken with school board representatives about the situation.
"Why would ANY high school marching band ever need fake guns?" he asked in a post on Facebook. "Have they been performing this routine all year? … If this pans out like it's looking this morning, however, I'll be disappointed, offended, and apologetic to both the people of Brookhaven and to those kids at Forest Hill who deserved better from the adults around them."