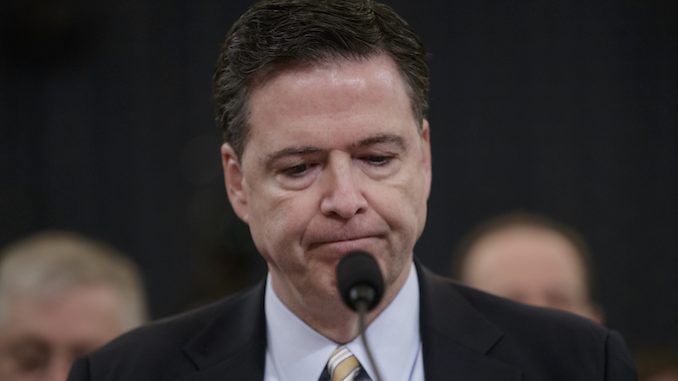 Washington Times  September 20, 2018   © Copyright (c) 2018 News World Communications, Inc.
The FBI pushed in 2016 to include the discredited dossier into the official intelligence community assessment that Russia interfered in the election to help Donald Trump and hurt Hillary Clinton, two former senior officials said.
The officials told The Washington Times that as the historic ICA, as it is known, was being drafted, the FBI wanted to fold in allegations and observations from dossier writer Christopher Steele.
One source said then-FBI Director James B. Comey directly advocated inclusion.
A second source said FBI officials definitely wanted Mr. Steele's charges on Kremlin behavior included but could not single out Mr. Comey as the main driver.
The sources said James R. Clapper, then director of national intelligence, and John O. Brennan, then director of the CIA, objected on grounds that the dossier remained largely unconfirmed information from a former British spy, not vetted U.S. intelligence.
"The IC assessment was corroborated intelligence that involved what the intelligence community agreed with," the source said. "The dossier was a totally separate thing that had not gone through that type of process, so it should not be included. That was the decision that was made."
The two former officials declined to discuss motives for why the FBI wanted to elevate the dossier from outside political research to part of the official government record.
Mr. Comey, through a spokesman, declined to comment to The Times.
In the fall and early winter of 2016, as the intelligence titans debated whether to include the dossier, the FBI was cranking up its investigation into the Trump campaign and possible collusion with Russia.
The Comey-led bureau became heavily invested in the dossier while knowing the charges were anti-Trump opposition research financed by Mrs. Clinton's campaign and the Democratic National Committee.
The FBI relied greatly on the dossier to persuade a judge to sign a wiretap warrant on Trump campaign volunteer Carter Page in October 2016. The application, largely on the word of Mr. Steele, said Mr. Page was an agent of Russia. Mr. Page has denied all parts of the dossier that pertain to him. He has not been charged.
Former FBI Assistant Director Peter Strzok, who led the Trump investigation, text-messaged his lover that the dossier allowed him to open new avenues of investigation.
Today, none of Mr. Steele's specific collusion charges against Trump people has been confirmed publicly.
In a London court, where Mr. Steele is being sued for libel, he filed a declaration that backtracked from the confidence he expressed in the dossier. He wrote of an "extensive conspiracy" between the Trump campaign and the Kremlin. But in court, he talked only of "possible" collusion and said all of his allegations needed to be verified. Some allegations were unsolicited call-ins.
Widget not in any sidebars
Mr. Comey's dossier history includes the day in January 2017 when he requested a private meeting with President-elect Trump at Trump Tower to brief him on the dossier's most salacious item — that he had engaged with Russian prostitutes in Moscow in 2013.
Mr. Comey, Mr. Clapper and Mr. Brennan had just briefed Mr. Trump on the ICA.
Mr. Clapper urged Mr. Comey go further and tell him about the dossier.
Mr. Comey didn't tell Mr. Trump that the product was opposition research financed by Democrats.
According to a Republican majority report from the House Permanent Select Committee on Intelligence, the FBI knew in October 2016 that the Clinton campaign and DNC had financed the dossier.
Mr. Trump fired Mr. Comey in May 2017, leading to the appointment of special counsel Robert Mueller, whose Russia investigation continues today.
Mr. Comey's memoir, "A Higher Loyalty," is festooned with criticism of Mr. Trump.
He has defended the FBI's dossier reliance by praising Mr. Steele.
"It was coming from a credible source, someone with a track record, someone who was a credible and respected member of an allied intelligence service during his career," Mr. Comey told ABC News during his book tour. "And so it was important that we try to understand it and see what could we verify, what could we rule in or rule out."
Mr. Comey wrote that Mr. Trump telephoned him to complain about a "leak" after the entire dossier emerged Jan. 10, 2017, on the news website BuzzFeed.
"So I explained that the dossier was not a government document," Mr. Comey wrote. "It had been compiled by private parties and then given to many people, including in Congress and the press. The FBI hadn't asked that it be created or paid for it to be created. The document was not classified and not a government document, so it wasn't really correct that it had been 'leaked.'"
© Copyright (c) 2018 News World Communications, Inc.