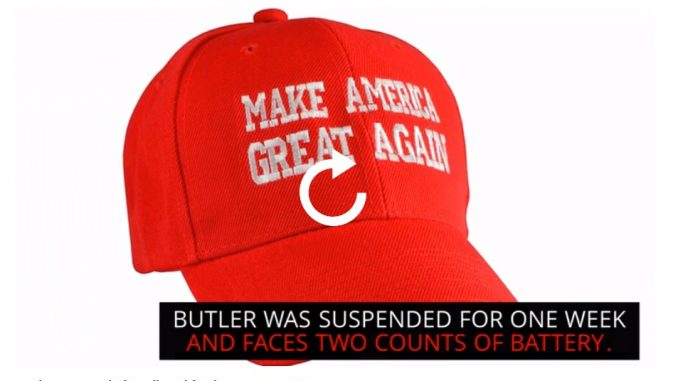 A high school senior in California was arrested Monday after she went on a profanity-laced tirade against a classmate for wearing a "Make America Great Again" hat.
Union Mine High School student, Jo-Ann Butler, 17, was suspended for one week and faces two counts of battery: one against her classmate for grabbing his MAGA hat and the other against her English teacher, whom she slapped as he escorted her out of the classroom in an altercation captured on a cellphone, according to CBS Sacramento.
"That's a racist and hateful symbol," Butler said, adding she took out her anger at the student to "wake people up in some type of way, because it's not cool the environment our classroom is in."
The school district's policy allows students to wear political gear.
According to El Dorado Sheriff's Sgt. Anthony Prencipe, Butler started "verbally berating" her classmate for wearing the pro-President Trump hat.
At one point, the upset student grabbed the hat and threw it on the ground.
Widget not in any sidebars
The English teacher told Butler to leave, but she came back in, arguing again with the hat's owner. Prencipe says the teacher stepped in to hold back the angry student, who then slapped him on the arm.
A school resource officer arrested Butler, who was transported to the El Dorado County Juvenile Hall.
TEACHER COMPARES TRUMP MAGA HAT TEEN TO NAZI IN VULGAR TWEET: 'F— EM'
The school district released a statement that reads in part: "…Student and staff safety is our highest priority and the UMHS administration will continue to cooperate with the El Dorado County Sheriff's Office as the incident is being investigated."
The El Dorado County District Attorney is expected to formally charge Butler later this week.