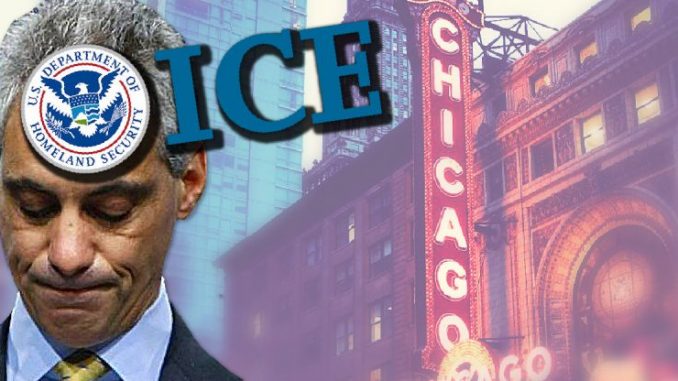 ICE blew into the Windy City and had a very, very busy day.
The latest "sweep" of Chicago has resulted in capturing and deporting 156 illegals!
Sorry, Rahm, ICE is enforcing President Trump's America First Agenda and keeping LEGAL citizens safe.
Now, perhaps Rahm can focus on the 8 Americans who were shot and killed and the 38 others who were wounded by gunfire over the Memorial Day weekend?
Doubtful.
Widget not in any sidebars
From Washington Times
Federal officers arrested 156 illegal immigrants and other people eligible to be deported from around the Chicago area over a six-day period, Homeland Security announced Tuesday.
It's the latest sweep to target "sanctuary city" jurisdictions, which refuse some level of cooperation with U.S. Immigration and Customs Enforcement. Chicago and Cook County, Illinois, have some of the most generous sanctuary policies in the country.
"'Sanctuary cities' not only provide refuge to illegal aliens, but they also protect criminal aliens who prey on people in their own communities," said Ricardo Wong, field office director for ICE's Enforcement and Removal Operations division in Chicago. "The Chicago area is safer today because of the hard work of the men and women of ERO."
The six-day operation, which ended last Thursday, targeted illegal immigrants and legal immigrants whose criminal records made them eligible for deportation.
ICE said the targets of the operation generally either have criminal records, have snuck back in after having previously been deported, or were ordered removed but are defying the order.
But in looking for those targets out in the communities, ICE will now arrest some of the other illegal immigrants it comes in contact with, officials said. That's a reversal from the Obama administration, which had carved most illegal immigrants out of any danger of deportation.
Those non-target arrests are called "collateral arrests."
"During targeted enforcement operations, ICE officers frequently encounter other aliens illegally present in the United States. These aliens are evaluated on a case-by-case basis, and, when appropriate, they are arrested by ICE officers," the agency said.