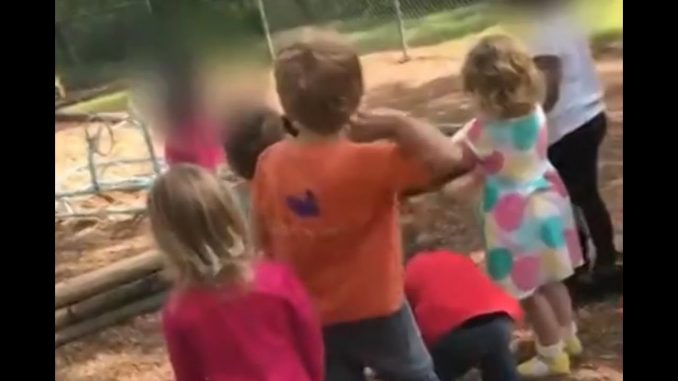 A day care worker in Arkansas has been accused of encouraging other kids to throw rocks at a four-year-old child for not following the teacher's directions.
A former teacher who witnessed the incident at Teach N Tend Daycare in Forrest City, Arkansas, went to police on April 26 and presented them with video footage she had shot of children throwing rocks at another child.
According to the witness, the kids were outside when the teacher told the unidentified child to sit down. Instead of following directions, the four-year-old picked up some rocks and threw them on the ground. The teacher then told the other students to throw rocks at the boy to teach him to follow commands. The video footage shows around half a dozen kids throwing rocks at the child.
In a police report, the officer who watched the video wrote, "I observed approximately six toddlers throwing rocks at a white male toddler. The toddler is kneed down, covering his face, crying. A background voice says, 'He'll learn to stop — ok that's enough,'" KIRO7 reported.
Widget not in any sidebars
The teacher in the video told authorities that while students frequently throw rocks, but she never encouraged the kids to throw rocks at the child. It is unclear when and how the authorities contacted the teacher. However, the witness who reported the incident claims it is not the first time she has seen such behavior by the teacher. The owner of the day care states that the accusation came from a disgruntled former employee.
The Forrest City Police Department, along with Child Services, is currently investigating the incident.
Multiple people have left angry comments and one-star reviews on the day care's Facebook page.
"Yes it's all the fault of a disgruntled employee, not the adult telling kids to throw rocks," one user wrote.
"Just watched the video currently circulating the web of the teacher telling kids to throw rocks at another student as a form of punishment. Unacceptable and disgusting," another said.
"You need to be shut down and have your license revoked. If anyone is reading this and has children at this day care, I highly recommend you get your child out of here now before something horrible and emotionally scarring happens to your child by the awful behavior being taught to the children here by the staff!" another comment reads.