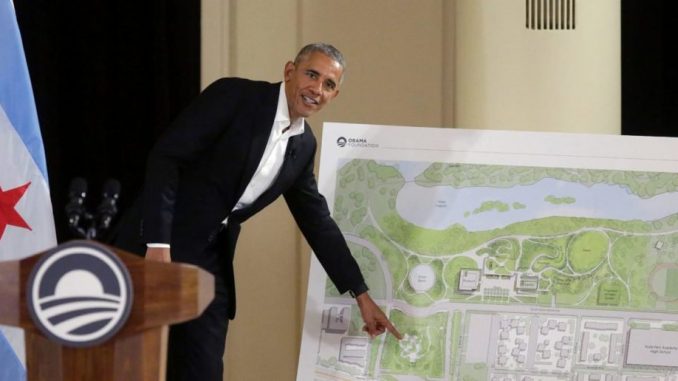 A public park advocacy group filed a federal lawsuit Monday accusing Obama Presidential Center organizers of pulling an "institutional bait and switch" by reneging on its original planned purpose of building an official presidential library in historic Jackson Park.
The Chicago City Council approved an ordinance in 2015 for the parkland to be leased to the Obama Foundation for the purpose of housing former President Barack Obama's official presidential library, the Chicago Sun-Times reported on Tuesday.
But operations have since changed. Obama now plans to use the parkland to build a $500 million personal museum and monument dedicated to his person. The National Records and Archives Administration will operate his presidential library somewhere else.
The lawsuit, Protect Our Parks, Inc. filed against the city of Chicago and the Chicago Park District, argues public parkland is "prohibited by law" from being given to a private entity such as the Obama Foundation for private use.
The lawsuit was filed ahead of a planned May 17 meeting of the Chicago Plan Commission to discuss the construction boundaries of the Obama Presidential Center. It seeks a court order to bar the city from approving the building of the center.
"The City and Park District clearly realize and fully understand that this established law precludes the Park District from arbitrarily transferring possession, use and control of this dedicated 'open, clear and free' public parkland in Jackson Park to a private nongovernmental private entity's self-determined use," the complaint reads, according to the Cook County Record.
The complaint accuses the City of Chicago of dealing with the Obama Foundation "in a classic Chicago political way, known as a short con shell game, a corrupt scheme to deceive and seemingly legitimize an illegal land grab, one that will endure for centuries to come, regardless of future changing public park needs and increasingly consequential environmental conditions."

Widget not in any sidebars

A spokesman for Chicago Mayor Rahm Emanuel stood by the Obama Presidential Center in a statement to the Sun-Times.
"The Obama Presidential Center is a once-in-a-lifetime opportunity to invest hundreds of millions of dollars that will create good jobs on the South Side, bring our communities together and honor the legacy of Chicago's favorite son and daughter. While some choose to stand in the way of progress for the South Side, we are focused on making progress in every community in Chicago," mayoral spokesman Grant Klinzman said.