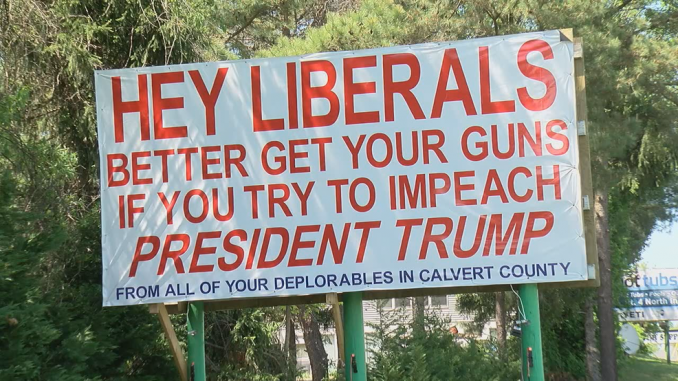 UPDATE — ABC7's Brad Bell reports the billboard in Calvert County is no longer up as of Friday evening.
According to the sheriff's department, the owner of the sign has taken it down.
Widget not in any sidebars
HUNTINGTOWN, Md. (WJLA) – There is a lot to read these days when you drive down Solomons Island Road in Calvert County.
Politicians looking for votes, businesses looking for customers, and then one sign at Bowie Shop Road that is turning a lot of heads.
"Hey liberals," it reads. "Better get your guns if you try to impeach President Trump. From all of your deplorables in Calvert County."
"I love the billboard," Michelle Rinker said. "We're conservative and there's a lot of corruption that's happened in this country and I don't think it's threatening."
"I'm a Republican but I think it's a little offensive," Kelly Mazzella said. "I think you can persuade people on the topics and not insult them."
One woman who didn't want to be shown on camera said her young son is frightened by it.
"I hate that billboard," she said. "I think it's very threatening. I don't like it at all."
It's been up for a couple weeks — and all over social media. It has been viewed and commented on an anti-Trump Facebook page tens of thousands of times.
But a number for the owner posted on the sign goes unanswered.
Now, the Calvert County Sheriff's Office has been flooded with phone calls — some people complaining about the sign and others complaining about the complaints about the sign.
The sheriff has now spoken to the owner, who has agreed when he comes back from out of town to at least change it.
Certainly, his message has been sent..
"If you attempt to take down a good president, there's gonna be a problem," Rinker said.