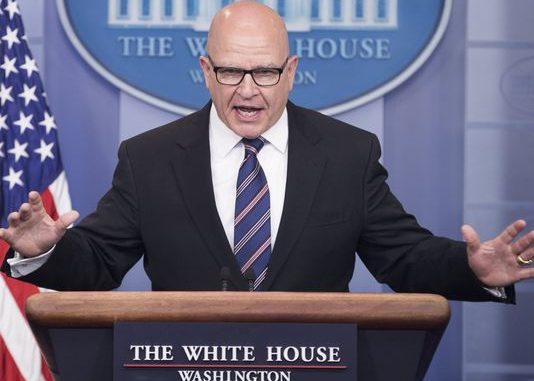 Homicide investigators in Philly are reportedly investigating the circumstances surrounding his death of H.R. McMaster's father. Nathan Rousseau Smith has the story. Buzz60
Widget not in any sidebars
A nurse was charged Thursday with involuntary manslaughter in the death of the father of President Trump's former national security adviser H.R. McMaster, investigators said.
Christann Gainey, 30, a contracted nurse at a Philadelphia senior care facility, is accused of falsifying medical documents and not providing adequate care. She's facing a number of additional charges, including neglect of a care-dependent person and tampering with records in connection with the death of H.R. McMaster Sr., Pennsylvania Attorney General Josh Shapiro announced at a Thursday news conference.
Shapiro said McMaster, 84, died at the Cathedral Village retirement community on April 13 hours after falling and hitting his head. He was first brought to the facility on April 9 for rehabilitation after a stroke.
McMaster was found on the floor of his room shortly before midnight April 12. He had wounds on his head and shoulder but wasn't treated or properly examined, Shapiro said.
After finding him, Gainey filled out paperwork indicating she had conducted neurological tests, which investigators note are required by the facility.
Instead, surveillance cameras showed Gainey didn't do any of the required tests and didn't properly check on McMaster in the hours after the accident, Shapiro said.
McMaster was found dead in the lobby of the facility about eight hours after his fall.
Shapiro said Gainey admitted to superiors at the facility she had doctored the paperwork after inconsistencies were discovered.
"The evidence shows that Gainey intentionally, knowingly and recklessly caused serious bodily injury to Mr. McMaster by failing to provide treatment or care," Shapiro said. "We will hold her — and anyone else who knowingly neglects a care-dependent person in Pennsylvania — accountable."
Investigators said the neurological checks may have helped identify the severity of his injuries. Police concluded Gainey failed to provide adequate services that could have saved
Widget not in any sidebars
Last month, the Philadelphia Medical Examiner's office found McMaster died of "blunt impact head trauma" and police noted they were investigating the death as "suspicious."
Cathedral Village released a statement last month acknowledging it was cooperating with police to investigate the death.
"The safety and well-being of every Cathedral Village resident is our top priority," said Courtney Benhoff, a spokeswoman for the facility, adding an internal investigation was ongoing.
McMaster was a retired U.S. Army officer. His son served as Trump's national security adviser from February 2017 until he resigned in March.
His daughter, Letitia McMaster, released a statement after the arrest thanking Philadelphia police and prosecutors for both investigating and holding Gainey accountable.
She said her father "was a tough and compassionate soldier and public servant" who was committed to his "neighbors, his fellow soldiers, his community and his country."
"The best way to honor his memory is for all of us to do all we can to prevent others from suffering at the hands of those who lack compassion and abandon even the most basic standards of human decency," she said. "Today's charges are an important step forward in that connection."