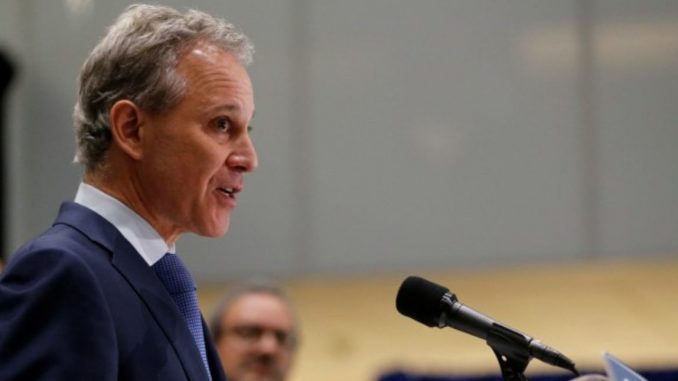 Disgraced former New York Attorney General Eric Schneiderman may have wanted to unseat President Trump from the White House to help keep his alleged sexual assault of women a secret, according to new shocking court documents.

Widget not in any sidebars

The lawyer for two unidentified women — who claim they were sexually assaulted by Schneiderman — said in recent court documents he reached out to Trump and his attorney Michael Cohen for help in 2013, long before Trump announced his presidential aspirations.
NEW: An attorney requests a protective order over any files seized from Michael Cohen about his discussions with Cohen "concerning two women that were sexually victimized by Mr. Schneiderman." pic.twitter.com/3vTXpuCnjh

— Adam Klasfeld (@KlasfeldReports) May 11, 2018
Whether or not Schneiderman knew these women turned to Trump and Cohen for help, via attorney Peter Gleason, the New York attorney general did start waging his own personal war with Trump and his companies during the identical time frame.
Nothing in high-level politics is a coincidence.
And Trump fought back.
https://twitter.com/realDonaldTrump/status/371736549748400128
https://twitter.com/realDonaldTrump/status/403899946702622721
https://twitter.com/realDonaldTrump/status/380503788840558593
https://twitter.com/realDonaldTrump/status/371720569848623104
Then, in late 2013, Trump dropped a prophetic bombshell on Twitter regarding Schneiderman, alluding to sexual allegations which ruined the political careers of Anthony Weiner and former New York Gov. Eliot Spitzer.
https://twitter.com/realDonaldTrump/status/377751074628988929
Look at the timeline. Do the math.
It appears Schneiderman was running a taxpayer-funded shakedown of Trump. And possibly Cohen too.
For years.
Widget not in any sidebars
Gleason recently told the Daily Caller:
New York attorney Peter Gleason says two women came to his office four years ago to seek help about then-Attorney General Eric Schneiderman. 
Gleason was once a write-in candidate for the Manhattan District Attorney's office against Manhattan DA Cyrus Vance, whose office is now investigating the case. 
He said it is now "refreshing" that "people's allegations of misconduct are finally being taken seriously." 
"Neither of these women want to have their identity revealed, but this is going back several years and I'm involved in local downtown Democratic politics and Albany all the way to the executive branch was fully aware of what Mr. Schneiderman is doing," he continued. 
"The silver lining to that is, there's apparently a number of women who are now coming forward against Mr. Schneiderman and we'll see what the Manhattan District Attorney Cyrus Vance does about this," he said.