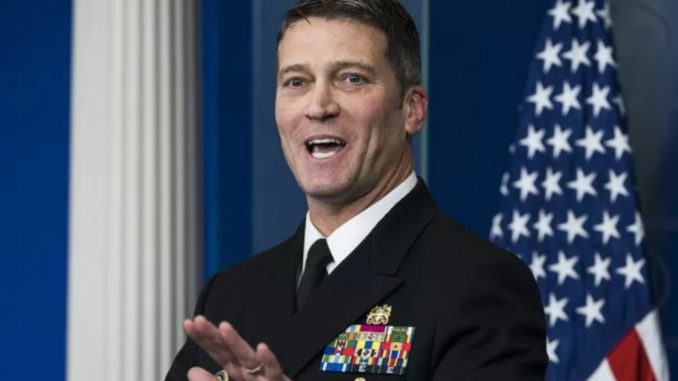 Trump: "for no reason…his reputation has been shattered"
Vice President Mike Pences physician, Army Dr. Jennifer Pena, resigned from the White House Wednesday according to several senior Administration officials. Pena's resignation comes just as the allegations she brought against President Trump's physician Adm. Ronny Jackson were proven to be unsubstantiated. The onslaught of unfounded allegations – also propagated by Montana Sen. Jon Tester – led to Jackson's decision to withdraw his name from consideration after being nominated by Trump to lead the Veteran's Affairs Administration.
"This is a rift between two doctors. Really has nothing to do with the Vice President or, sadly, the second lady. The effort to discredit Admiral Jackson is a personal vendetta and the Vice President's office like POTUS' stands by him," a White House official told this reporter.
Pena briefed Democratic members of the Veteran's Affairs Committee last month on the allegations. She accused Jackson of over-prescribing medication to White House staff, claimed he wrecked a government vehicle after leaving a Secret Service party under the influence and that he was disruptive at work and on trips. None of those allegations were found to be accurate. Pena, was assigned to Pence by the White House Medical Unit and White House Military office. Tester contends that the allegations against Jackson were supported by 23 people but did not release the names of those making the charges.
Widget not in any sidebars
On Wednesday, Pena told colleagues in the White House Medical Unit that she was resigning and moving on, according to sources with knowledge. She officially left the White House on Friday, they added.
Trump has called out Tester and said he should resign for spreading false allegations against Jackson.
Pena could not be reached for comment.
"The Vice President's office was informed today by the White House Medical Unit of the resignation. Physicians assigned to the Vice President report to the White House Medical Unit and thus any resignation would go entirely through the Medical Unit, not the Vice President's office," said Alyssa Farah, press secretary for Pence.
https://twitter.com/realDonaldTrump/status/990202926114189312
Pena, along with several others, went to the Senate Veteran's Affairs Committee to complain about Jackson, according to Administration sources. The 23 other people Tester referred to were contacted by phone when investigating the claims against Jackson. In fact, according to one administration official, those called were "asked very leading questions, others never returned phone calls to the Senate or were unavailable to talk, so it's really not sure how many people were actually contacted and what they said."
"Even more perplexing is the false allegation that Jackson wrecked a government vehicle under the influence and there is no evidence that this ever occurred," stated the official, who knows Jackson.
Last week the Secret Service disputed the allegations first made public by CNN that Jackson had wrecked a government vehicle issuing a statement saying, "over the last 48 hours, media outlets have alleged that U.S. Secret Service personnel were forced to intervene during a Presidential foreign travel assignment in order to prevent disturbing (former) President Barack Obama. The Secret Service has no such record of any incident; specifically, any incident involving Rear Admiral Ronny Jackson."
The Secret Service also stated that it reviewed all internal documents related to then President Obama's foreign travel in 2015 and interviewed personnel who were present during those trips and there is no information that indicated the allegation is accurate, as reported by ABC news.
Pena's role in the allegations against Jackson was first revealed by this reporter in an article Monday, in which several White House officials disclosed the ongoing grudge Pena had against Jackson and was frustrated by his continuing promotions inside the West Wing.
Last week, three of Pena's personal memos about an incident involving Second Lady Karen Pence and Jackson were exclusively leaked to CNN. Pena accused Jackson of violating the Health Insurance Portability and Accountability Act, known as HIPAA, when he treated the Second Lady last year on a trip at Camp David. As stated by CNN it is the only documentation accusing Jackson of any wrongdoing, however, it came from the same colleague who had reported the unfounded allegations against him to the Senate.
According to the CNN, which did not disclose Pena's name, the Vice President's physician accused Jackson "of overstepping his authority and inappropriately intervening in a medical situation involving the Second Lady as well as potentially violating federal privacy rights by briefing White House staff and disclosing details to other medical providers — but not appropriately consulting with the Vice President's physician."  The CNN article stated that on Sept. 11, 2017, Pena briefed Ayers about "this breach of her patient information." She argued that Jackson violated HIPAA laws by disclosing information to others.
However, Administration officials familiar with the situation told this reporter that the real violation appears to be the leaking of the memos to CNN and disclosing the medical condition to the public. According to those sources, Jackson's role in treating the Second Lady was done out of concern because Pena was not capable of treating her or assessing the situation as she was three hours away from Camp David at the time. They noted that Jackson who had to use presidential "assets" was responsible for informing the White House of those details.

Widget not in any sidebars

Jackson provided medical care for the Second Lady and then had to notify Chief of Staff John Kelly that they needed to use the "assets" and why it was necessary, the officials stated.
Farah, press secretary for Pence, told this reporter Tuesday that Ms. Pence "has been briefed on all the facts related to a private matter regarding her health care. She is grateful for the professional care she received from all White House medical personnel who resolved the matter quickly. She considers the matter closed and has no further comment on the situation."
According to Administration officials, Pena has held a long-time grudge against Jackson because of his continuing promotions in the White House. Although she began her career at the White House during the Obama administration, she was promoted by the White House Medical Unit to be the physician to the Vice President.
It also appears that Pena did not follow proper protocol to report on the allegations, according to several Administration officials. Instead, she went directly to the Senate to report her distrust in Jackson. According to the Senate, she had the support of a number of former and current members of the White House medical staff.