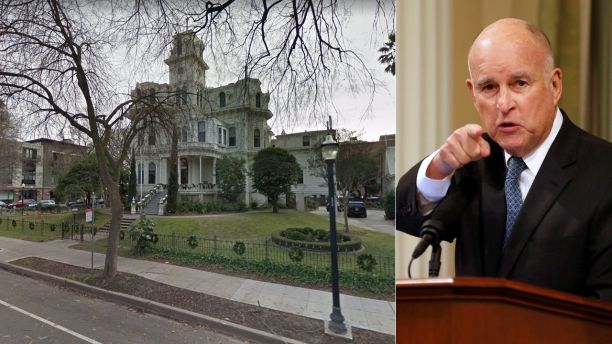 A homeless man who was arrested last month after breaking into California Gov. Jerry Browns home in Sacramento reportedly said he only tried entering the mansion because he figured the sanctuary state politician was "an open-door policy kind of guy."
The California Highway Patrol said 51-year-old Steven Seeley was arrested April 19 and treated at a hospital for cuts he received while breaking a window to get out of the home in downtown Sacramento, located about 10 blocks from the Capitol.
Widget not in any sidebars
In an interview with KCRA-TV on Sunday, Seeley claimed he heard what sounded like a large cat roaring nearby, and ran in to an unlocked side door.
"He's an open-door policy kind of guy, so I figured the door would be unlocked, or else I wouldn't have ran over there if I thought the door would be locked," Seeley told KCRA.
In an interview from the Sacramento County Jail on Thursday with the Sacramento Bee, Seeley said he has never been diagnosed with a mental disorder, but said he does experience delusions and may be confused about the series of events.
"I was looking for the security staff, but I didn't see anybody," he told the paper. "I thought the governor was in trouble, I thought he was in danger of being attacked by the wild animals, so I walked in. I yelled 'Jerry!'"
Once inside, Seeley told KCRA he hid in a closet after hearing growling again, and then jumped out a window into the fenced-in yard and fled. He then cut his arm climbing back over the fence and was taken by a Good Samaritan to a local hospital, where he was later arrested by police.
Homeless man describes entering Governor's Mansion after being scared by cat https://t.co/znOCcn3H7p pic.twitter.com/k2FZROeFQ5

— kcranews (@kcranews) April 29, 2018
The 51-year-old said that he is an almost daily methamphetamine user, and sleeps inside a shuttered hotel located across the street from the governor's mansion.
CHP spokeswoman Fran Clader told the Associated Press that Brown was not home at the time, but California First Lady Anne Gust Brown was upstairs. She didn't have any contact with Seeley, according to Clader.
ader told the Bee the property is monitored and there is "a robust on-site security presence at the residence 24 hours a day, seven days a week."
"The safety of the first family continues to be our top priority and enhanced security measures remain in place," she said.
The Golden State's homeless population of more than 130,000 people is now about 25 percent of the nationwide total, and cleaning up after the surging group is getting costly — topping $10 million in 2016-17, according to the state's department of transportation.
The Associated Press contributed to this report.