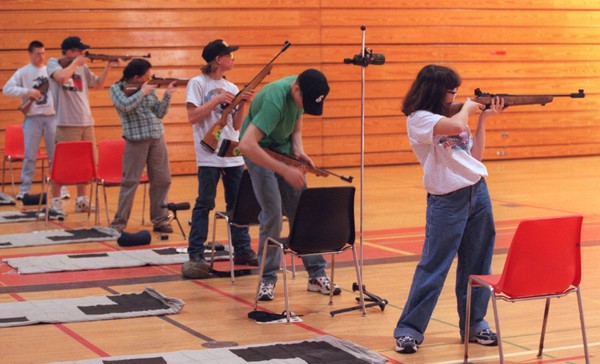 A state lawmaker from New York City has authored a bill that would end riflery, trap shooting and archery as a sport in public schools.
Assemblywoman Linda B. Rosenthal, a Democrat who represents the 67th Assembly District in western Manhattan, introduced the bill on April 20. At this point, there is no co-sponsor for it in the state Senate.
The bill, A10428, which was sent to the Assembly's Education Committee, would amend the state's Education Law and calls for the "prohibition of marksmanship and/or shooting programs in public schools" – a change that "shall take effect immediately."
Rosenthal's bill, covering "marksmanship and/or shooting programs," includes "any competitive or recreational shooting activities involving proficiency tests of accuracy, precision and speed in using various types of ranged weapons, such as firearms and air gun, in forms such as handguns, rifles and shotguns and/or bows or crossbows."
In her memo describing the need for the bill, Rosenthal wrote:
"Marksmanship programs in public schools were once popular, but a rise in gun violence and school shootings in recent years has spurred a long overdue. re-evaluation of their place in our students curriculum. A number of schools which still operate marksmanship programs do so through grants from the National Rifle Association, including Parkland, Fla. high school where a former student and marksmanship team member murdered 17 students and teachers in February 2018.
Widget not in any sidebars
"In 1990, Congress passed the Gun Free School Zones Act to prohibit the possession of firearms on school grounds, but left exemptions for police officers and school security as well as students possessing firearms as part of an approved school program. Research shows that an increase in guns leads to an increase in gun injuries and deaths, whether intentional or not. To create a true, gun-free school zone we cannot allow students to possess and discharge firearms on school property.
"This bill would increase student safety by prohibiting public schools from offering marksmanship programs or other programs that allow students to possess and discharge firearms on school property."
The bill, if approved, would impact a number of Upstate school districts, who have competitive teams in such sports as riflery, trap shooting and archery.
Each winter, the New York State Public High School Association holds a regional rifle championship. One was held March 3 at West Point.
According to the New York State Sportswriters Association, there are nearly 60 trap shooting teams across the state that are about to begin their season in the New York State High School Clay Target League.
One of the league's attractions is that that league is co-ed and provides adaptations for handicapped shooters. Teams are open to students in grades 6-12.
Each student is required to pass a comprehensive firearm safety education course prior to participation.
Meanwhile, the state Department of Environmental Conservation is supportive of archery in public schools, having started a program to encourage the sport in 2008.
"The National Archery in the Schools Program is growing in New York," said DEC Commissioner Basil Seggos. "This cooperative effort between conservation agencies, school systems, and private organizations is a great way to bring the sport of archery to thousands of students across the state. Archery is one of the few sports where students of all ages and athletic abilities compete at the same level for top honors."
DEC started this program to introduce young people to archery, outdoors, and other shooting sports, including hunting. More than 34,000 students from 320 schools participated during the school year in last year's program, according to the DEC website.