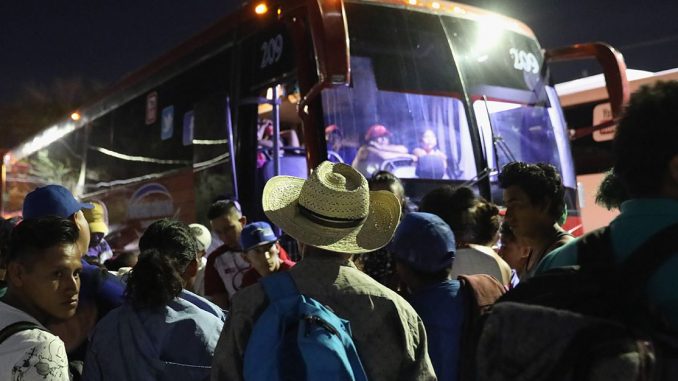 A collection of activist groups in California is organizing a march to the U.S.-Mexico border to meet asylum seekers from a much publicized caravan, and immigration lawyers will be part of the procession.
The so-called March Without Borders began in Los Angeles on April 22 and is expected to culminate Sunday with a rally at San Diego's International Friendship Park, which straddles the border.
Event organizers say they are marching in the name of migrants who "suffer repression and violence in their own country and for their human right to seek asylum in the country of their choice." They have also blamed U.S. policies for creating the conditions that force migrants to flee their home countries.
"It's important to address the root causes of migration and the repressive regimes funded and propped up by the US Government that cause people to leave," event organizers said in Facebook post.
Widget not in any sidebars
But the march is more than a symbolic call to action. Among the marchers are immigration lawyers, who will advise the migrants on the best way to submit asylum applications to U.S. immigration authorities, according to Clergy and Laity United for Economic Justice (CLUE), one of the participating groups.
"They [migrants] are coming here because they are desperate due to conditions created by the United States — that's why we want to show solidarity and give them a welcome," CLUE spokesperson Teresa Borden told Univison News.
Organized by the open-borders group Pueblo Sin Fronteras, the 1,500-strong caravan of mostly Honduran migrants began its northward journey through Mexico in late March. Though it is an annual event, this year's march gained prominence thanks to reports from U.S. media outlets describing the ways in which Mexican authorities were helping the migrants reach the U.S. border.
President Donald Trump reacted angrily to the news, accusing the Mexican government of facilitating illegal immigration and demanding that U.S. lawmakers act to tighten asylum laws. Later, he ordered a National Guard deployment to reinforce border agents.
Undeterred, individual migrants from the caravan began to trickle into Tijuana last week. On Tuesday, buses carrying at least 130 migrants arrived in the nearby Mexican border city of Mexicali, where they prepared to head on to Tijuana and, eventually, to a U.S. port of entry.
Another several hundred caravan members are expected to arrive in the coming days — one contingent traveling in a convoy of buses and another riding atop freight trains.
Trump administration officials have described the caravan as a deliberate attempt to flout U.S. immigration law. Asylum clams will be closely scrutinized for fraud, and any migrants found ineligible will be swiftly deported, Homeland Security Secretary Kirstjen Nielsen said Tuesday.
"If members of the 'caravan' enter the country illegally, they will be referred for prosecution for illegal entry in accordance with existing law," she said in a statement. "For those seeking asylum, all individuals may be detained while their claims are adjudicated efficiently and expeditiously, and those found not to have a claim will be promptly removed from the United States."
Under U.S. law, migrants who cross the border and are detained by Customs and Border Protection (CBP) can make "affirmative" asylum requests. If they pass an initial security screening, they are granted an interview with an asylum officer, who determines if the applicant has a "credible fear" of persecution in their home country.
Those broadly written rules mean caravan migrants cannot be turned away without being given a chance to apply for asylum, March Without Borders organizers say. Pueblo Sin Fronteras has accused U.S. immigration authorities of illegally refusing asylum applicants.