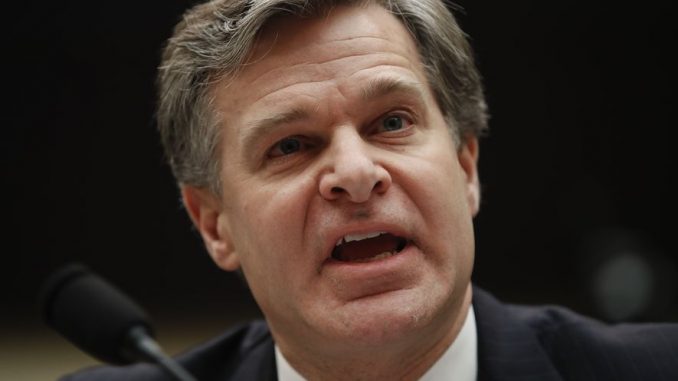 One of the consequences of the Obama Administration's unprecedented decision to launch a counterintelligence investigation on the Trump political campaign in 2016 is the drain on Department of Justice resources to chase down the "Russia connection" at the expense of other national security concerns.
Widget not in any sidebars
Lt. Col. Tony Shaffer, a retired military intelligence officer and a Senior Fellow at the London Center for Policy Research says that over seventy percent of the FBI's current budget dedicated to foreign counterintelligence investigations have been diverted to support the probe's activities. Shaffer made the revelation on my radio program Monday afternoon on WMAL in Washington DC:
O'Connor: And then there is another incident that I didn't, I'm bringing up your whole rogues gallery, first John Brennan, now how about James Clapper, Director of National Intelligence at the time under Barack Obama. He's the guy, according to James Comey, that suggested that Comey sit alone, one-on-one just the two of them, with he and President-Elect Trump to brief them on the Russian dossier. But only the salacious sexual parts of the Russian dossier.

Lt. Col. Shaffer: And never once thought mentioning that the origins of all that was from opposition research.

O'Connor: And then two days later, suddenly, CNN reports on the existence of the Russian dossier. They said that they reported on it because, well, the President-Elect has been briefed on it, that makes it news worthy. Is there any doubt that this was leaked for this sole purpose, to cripple the Trump presidency before it even began?

Lt. Col. Shaffer: Yeah absolutely. Look, the two pieces of this really is what you just said. It was a setup Larry. I mean basically how would CNN had ever known a briefing like that was given and more importantly the President was owed a complete and detailed explanation of the sourcing. That to me right there is criminal negligence on the behalf of Comey. And let me tell you a little bit too.. I'm going to drop some information with you and your audience which is not public yet and I want y'all to have it…According to my sources 71 percent of the FBI's foreign counterintelligence budget has been diverted to focus only on what we're talking about here, Clinton and The President. Which means that all the stuff we're seeing now to include what you just mentioned regarding CNN, everything has been diverted to this completely false narrative that James Comey presented to the President, the media then got a hold of it because James Comey leaked it to them. That's how they got it.

O'Connor: Or James Clapper. But wait, hold on a minute. Seventy-one percent of the FBI's counterterrorism investigative budget right now is going to this thing? What things are they missing? What mad man in a white van is about to plow down Pennsylvania Avenue because they're looking at this?

Lt. Col. Shaffer: BINGO. So that's what I'm telling you. Everybody has been so focused on dealing with domestic political issues Larry, no one is actually monitoring working at the shop. Everybody has been moving on here to this. So, the vast majority of the effort is focused on everything you're seeing now regarding getting some evidence on President Trump or trying to explain a way and not look at the Hillary Clinton stuff. So you have to ask yourself, what's been going on over the past year before last and this last year, when they are diverting all their resources to these… Let me be clear on this, they are supposed to be focused on foreign threat but they have now diverted the majority, the bulk of their funding to go after domestic targets. This is very frightening and this is what we're seeing now play out.
Listen to the entire interview here: