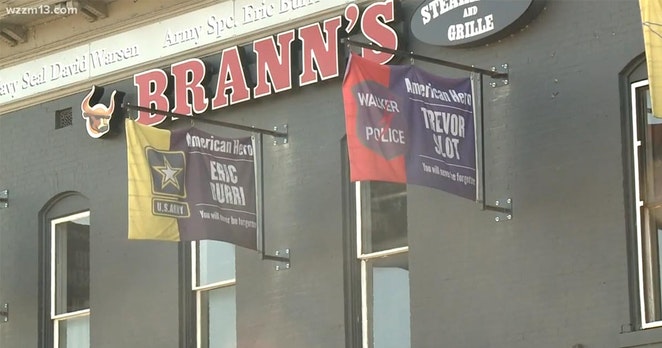 Grand Rapids, MI – The owner of a Grand Rapids restaurant is refusing a city demand to take down flags that honor the police and military killed in a line of duty.
Tommy Brann, owner of Brann's Steakhouse & Grille, flies flags with the names of local police officers and military personnel killed in the line of duty.
Widget not in any sidebars
Brann, a Republican Michigan state representative, explained that the city of Grand Rapids said the flags were a violation of the city ordinances because he had exceeded the allowed amount of signage, according to the Detroit Free Press.
"The flags and the names of the fallen heroes on the building are not coming down," Brann told the Detroit Free Press.
Brann said he flies the flags as a tribute to law enforcement and military personnel who were killed while serving their country.
He said he will apply for a zoning variance that would allow the banners to stay, but even if he doesn't get it, he's not taking down the memorial banners.
"I'm going to go through the process, but regardless of the result I'm not taking the flags down," Brann said. "These people gave their lives for us and they deserve to be honored and remembered. I'm going to continue to make sure they are."
At one point, Brann had two banners hanging on the outside wall of his restaurant, in addition to the flags.
"They're damned if they do, they could die if they don't: Our police officers," one banner read.
"Thank you! Grand Rapids police," said another.
But people complained those banners were political and offensive, so Brann took them down.
The state representative is not easily bullied, and said this time he won't be pressured to take down the flags and names of the fallen heroes.
Brann made news in 2015 when he banned Hollywood liberals Michael Moore and Seth Rogen from his restaurants after they both made negative comments about the movie American Sniper on Twitter.
Moore called snipers "cowards," and Rogen tweeted that the movie reminded him of a Nazi propaganda film.