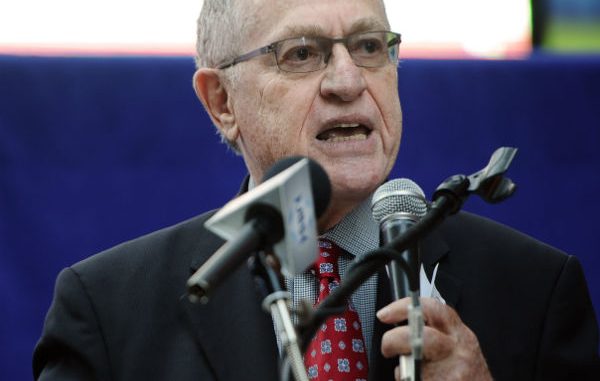 Ripping FBI special counsel Robert Mueller as a political "zealot," Harvard law professor emeritus Alan Dershowitz reminded staunch Mueller supporters about the former FBI director's role in protecting "notorious mass murderer" Whitey Bulger as an FBI informant.
Widget not in any sidebars
"I think Mueller is a zealot," Dershowitz told "The Cats Roundtable" on 970 AM-N.Y. ". . . I don't think he cares whether he hurts Democrats or Republicans, but he's a partisan and zealot.
"He's the guy who kept four innocent people in prison for many years in order to protect the cover of Whitey Bulger as an FBI informer. Those of us in Boston don't have such a high regard for Mueller because we remember this story. The government had to pay out tens of millions of dollars because Whitey Bulger, a notorious mass murderer, became a government informer against the mafia . . .
"And that's regarded in Boston of one of the great scandals of modern judicial history. And Mueller was right at the center of it. So, he is not without criticism by people who know him in Boston."
Dershowitz, a famed defender of civil liberties, frequently rails against "criminalization of political differences," and picked up the defense with host John Catsimatidis.
"I think our legal system among Western democracies is among the most politicized," Dershowitz said. "We're the only country in the world that has to appoint special counsel. In virtually every other country the administration of justice is objective. It's enforced by career people, by civil servants, by people who are not beholden to political parties or the president or Congress.
". . . The Justice Department, the attorney general, always has a conflict of interest. He is a Cabinet member who is supposed to be loyal to the president, but he is also supposed to be the chief law-enforcement officer of the United States. And those roles are completely incompatible. Every other Western democracy divides those roles. That's the structural cause of the problem."
 Dershowitz added criticism of former FBI Deputy Director McCabe, whose wife received hundreds of thousands of dollars in campaign contributions from Hillary Clinton-related sources, he said."It wasn't right," Dershowitz said. "Justice has to not only be fair and impartial. It has to be seen to be fair and impartial. When you have somebody running for office . . . and her husband is in charge of a very important investigation of political candidates, the perception of unfairness is there.
". . . The American public is losing faith in the objectivity and neutrality of our criminal justice system. I don't care if you're a Democrat or Republican."
 Dershowitz finished up with his oft-repeated disappointment of society judging people as guilty before being proven innocent when the justice system has prescribed innocence until being proven guilty, as is the case with ousted casino magnate Steve Wynn."He hasn't been given an opportunity to defend himself," Dershowitz said. "He was accused, and once you were accused these days there's not only a presumption of guilt but an absolute presumption of guilt. You can't defend yourself. If you defend yourself, you're regarded as part of the culture of abuse and culture of rape.
"We have to get back to the times when we have a presumption of innocence for all crimes, whether you're the president of the United States or the head of the Wynn enterprises."