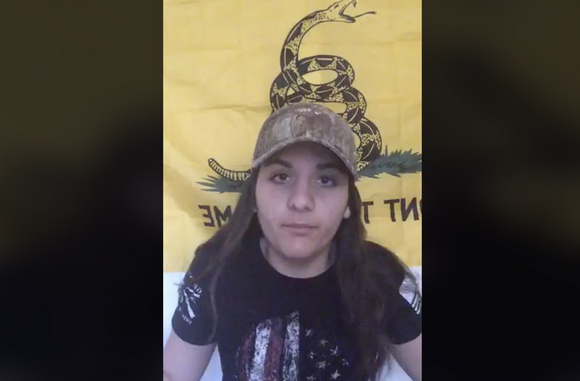 A conservative high school student was asked by her school to take down a Facebook video in which she criticized her school of rampant liberal bias.
The video, posted by 16-year-old Elizabeth Najjar, explained that not all students support the agenda of the March for Our Lives and that many students believe in the constitutional right to bear arms. Najjar also gave personal examples of how Freedom High School employees have discriminated against her conservative views, including how she was told she could not wear a hat with a gun manufacturer's logo on it and how her backpack was searched when she was seen with a magazine about police and army gear.
Widget not in any sidebars
According to Public Information Officer for Loudoun County Public Schools Wayde B. Byard, Najjar was asked to take the video down because she mentioned a transgender student by name.
Najjar compared the way her support of the Second Amendment is constantly criticized to how her teacher told her class that there are more than two genders. Najjar briefly mentioned how a transgender classmate's views were considered more important than her own.
"This had nothing to do with the Second Amendment," Byard told Red Alert Politics. "The video … mentioned a minor student as transgender by name without the student's knowledge or permission. Several students brought this to the attention of the administration. The guidance staff mentioned to Elizabeth that it might be wise to pull the video from public view and edit out the student's name."
Tomi Lahren tweeted her support for Najjar after the incident.
My friend Elizabeth posted this Facebook LIVE supporting the Second Amendment. Today her school administrators asked her to take it down because it "offended" other students. Free speech doesn't end where feelings begin. Enough of this. https://t.co/7ZMRgtUYZ0

— Tomi Lahren (@TomiLahren) April 4, 2018
"I believe young people on the other side of the gun debate deserve to be heard as well. If we want to have an open exchange of ideas and encourage young people to be politically active, we must open the conversation to BOTH sides," Lahren told Red Alert Politics.
After making waves with her Facebook video, Najjar has decided to host a new Facebook show called "The Fight For Freedom." She is also forming a Students for Trump club at Freedom High School and within her community.