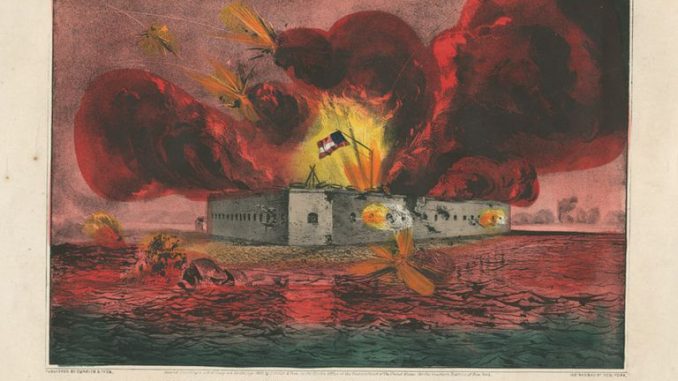 The Confederates surrender Fort Pulaski, guarding the mouth of the Savannah River in Georgia, after a two-day Union bombardment tears great holes in the massive fort.
Widget not in any sidebars


Fort Pulaski was constructed in 1847 as part of the country's coastal defense network. The imposing masonry stronghold was named for Polish Count Casimir Pulaski, who was killed at Savannah by British troops during the American Revolution. The Union landed troops on Tybee Island, a mile south of Pulaski, in early 1862 and prepared for an attack. An engineering officer, Captain Quincy Gilmore, spent two months moving heavy artillery into place. These included large smoothbore cannon and smaller, rifled guns that shot conical shells at high speed and with greater accuracy than the larger pieces.

The attack began on April 10, and Gilmore's work paid off. The rifled cannon fired shots that penetrated two feet into Fort Pulaski's seven-foot-thick walls. By the morning of April 11, two huge gaps had been torn in the fort walls and a group of Federal infantry was poised for an attack. Colonel Charles Olmstead, commander of Fort Pulaski, recognized that further resistance was futile, and he surrendered the fort to Union troops.

The Savannah River was sealed and a vital Confederate port was closed, although Savannah itself would not be captured until General William T. Sherman marched across Georgia two and a half years later. The destruction of Fort Pulaski signaled an end to the era of brick fortifications, though, which had been made obsolete by the new rifled artillery.