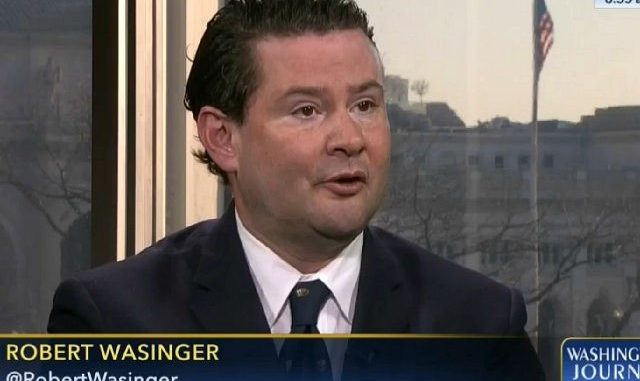 Trump transition team official and Breitbart News contributor Robert Wasinger had some harsh words for certain Trump administration officials on SiriusXM's Breitbart News Saturday.
Talking with Breitbart News Washington Political Editor Matt Boyle and Deputy Political Editor Amanda House, Wasinger continued his campaign against the establishment and NeverTrump elements he sees as locking out actual Trump supporters who worked to get Donald Trump elected president from getting jobs in the administration.
Wasinger, who helped craft the transition, especially in the State Department, has been frustrated by the lack of progress in staffing the administration, particularly in so-called "Schedule C" positions, with Trump loyalists. In his view, officials unfriendly to the original Trump agenda are largely to blame.

Widget not in any sidebars

One target of Wasinger's ire was State Department Senior Policy Adviser Brian Hook, a Rex Tillerson ally with a reputation of being fiercely critical of the populist-nationalist politics that swept Donald Trump into the White House.
"One person that was appointed in policy and planning was a guy named Brian Hook," he told Boyle and House. "He is firmly committed – at least what he tells people in the building – to renewing the Iran nuclear deal. And I can't find anyone in the White House who shares that view."
"Before he came to the administration, he founded the [John] Hay [Initiative], which instituted a NeverTrump letter that went out that was signed by a lot of people," Wasinger noted. "He didn't sign it, but he's there pushing these agenda items that are completely at odds with what the president campaigned on and what the president wants to do."
Wasinger considers another State Department official, however, an even bigger obstacle to implementing the Trump agenda and placing genuine Trump loyalists in the administration. "I think the biggest problem that we have right now is the White House liaison there, Carrie Cabelka, who has an active screen up against all these Trump loyalists – campaign officials," he said.
Wasinger accuses Cabelka of preventing Trump campaign supporters who secured Schedule C appointments from getting the pay they had on a temporary basis. "She reduced virtually all of their salaries while giving herself a huge campaign bump," he explained.
"That's offensive enough, but what's more offensive to me and to a lot of people is the active screen she has up against Trump campaign folks, Trump loyalists, people that really want to affect the president's agenda."
In their place, according to Wasinger, Cabelka has championed candidates like acting Assistant Secretary of State for East Asian and Pacific Affairs Susan Thornton whom Wasinger described as a "leftist career foreign service officer." He expanded on that saying, "Carrie Cabelka's the tip of the spear in keeping out our people and getting in establishment career types. You know, quite frankly, we campaigned against them. I think the president should set up a basic test … I think people that work for him should have at least voted for him. … I just can't imagine that these people did."
"These people are not only … not loyal, they're working against him on a daily basis," Wasinger warned Boyle and House. "And it's gotta be fixed."