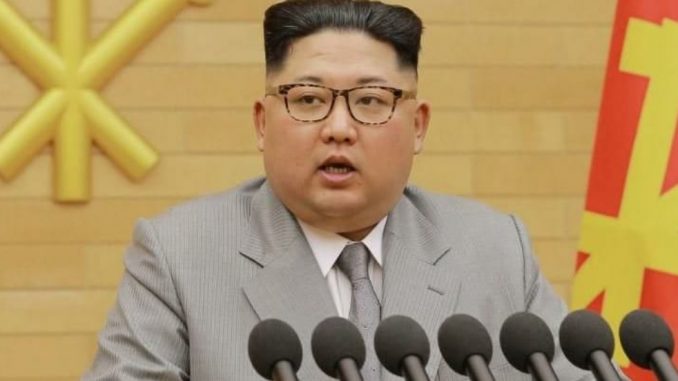 North Korea's Kim Jung Un will meet next month with South Korean President Moon Jae-in at a border village in a high-profile meeting that could prove significant in global efforts to resolve a decades-long standoff over Pyongyang's nuclear program.
The announcement was made after officials met at the border village of Panmunjom. The Koreas plan to hold another preparatory meeting on April 4 to discuss protocol, security and media coverage issues during the April 27 meeting, according to a joint statement released by the countries.
Few other details were released.
March 29: South Korean Unification Minister Cho Myoung-gyon, left, shakes hands with North Korean delegation head Ri Son Gwon before their meeting at the northern side of the Panmunjom, North Korea.  (Korea Pool via AP)
The leaders of the two Koreas have held talks only twice since the 1950-53 Korean War, in 2000 and 2007, under previous liberal governments in Seoul.
A top South Korean official told reporters that setting up dialogue to eliminate Kim's nuclear weapons program would be a critical point of the meeting.
Widget not in any sidebars
Ri Son Gwon, chairman of a state agency that deals with inter-Korean affairs, led the North's three delegates, saying the past 80 days have been filled with "unprecedented historic events between the rivals," referring to the Korea's renewed talks before the Winter Olympics and the agreement on the summit.
He also expressed hopes for an outcome that would meet the "hope and desire of the nation."
Thursday's announcement comes after a surprise meeting between Kim Jong Un and Chinese President Xi Jinping this week, which goal appeared to seek improving relations ahead of the North's planned talks with Moon and President Donald Trump.
Widget not in any sidebars
In setting up separate talks with Beijing, Seoul, Washington, and potentially with Moscow and Tokyo, North Korea may be moving to disrupt any united front among its negotiating counterparts. By reintroducing China, which is the North's only major ally, as a major player, North Korea also gains leverage against South Korea and the United States, analysts say.
Washington and Seoul have said Kim previously told South Korean envoys that he was willing to put his nukes up for negotiation in his talks with President Donald Trump. However, the North has yet to officially confirm its interest in a summit between Kim and Trump.