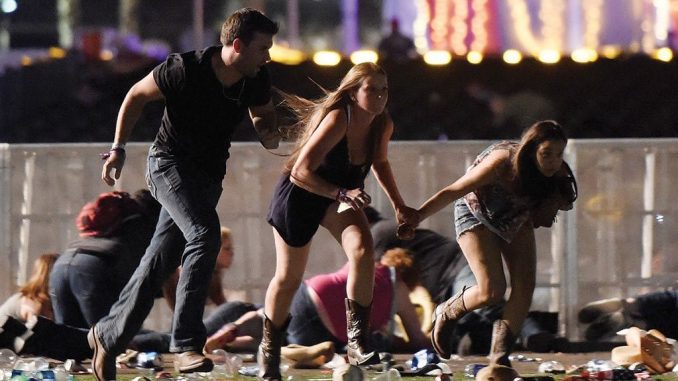 The hushed FBI investigation unfolding inside the FBI's public Broadway show version of the Las Vegas shooting investigation started when a witness claimed he hid outside Mandalay Bay in the bushes for hours after the stream of gunfire started raining down on concert goers on Oct. 1.
The same man also claimed he was inside the room next door to the shooter when gunfire erupted on 22,000 country western fans — mostly Trump supporters — at an outdoor concert in the shadow of the MGM resort's sprawling Mandalay Bay resort.
The same man who said he saw shooters gun down a security guard outside the hotel suite he shared with Stephen Paddock, even though that information was never divulged publicly at the time.
The same man who described to news media — minutes after the attack — in detail the tools in Paddock's suite used for the attack days before such physical evidence was released to the public.
The same man who went to great lengths — using techniques few would know or employ absent training — to mask his phone and social media accounts to shield his location before and during the attack.
The same man FBI agents were never allowed to interview and told to forget about, despite pleadings from intelligence veterans that this individual was an imperative person of interest in the shooting investigation.
"We cleared Mandalay Bay within two hours," one FBI agent recalled while replaying the video of a witness statement over and over, searching for discrepancies. "There was nobody hiding in any bushes."
That was the first clue. Subsequent clues grew bigger and bolder.
The agent found many additional statements that didn't match up with reality either. And other agents were likewise nailing down evidence that disputed the official FBI narrative curated by FBI Las Vegas SAC Aaron Rouse and his inner circle. The official line continues to be the shooter, Stephen Paddock was a mysterious lone wolf who had no help killing 58 people and maiming another 500 from his hotel-suite perch on the 32nd floor of Mandalay Bay.

Widget not in any sidebars

He gambled too and he was angry about something, though no one in charge of the probe is saying exactly what.
There is the story the FBI and Las Vegas officials along with MGM brass have carefully curated — the story they need you to believe about that deadly night.
Then there is the truth pasted together by FBI agents and Intelligence veterans with evidence the FBI brass seemingly wants to keep far away from the public record.
Neither story looks very similar. In fact the official narrative has not held up to the test of time even though that time frame has been just six months.
This is the story that they don't want folks to know.
And soon you'll understand why.
FBI brass at every turn fought to conceal credible evidence that countered the official, polished Las Vegas narrative. That includes painting Paddock as the sole mystery man of the attack, while shielding the identity of the real mystery man:
Brian Hodge.
Hodge, a 37-year-old Australian living in the United States, went from media witness to person of interest "almost overnight," one FBI agent said. Yet FBI brass led by Rouse refused agents permission to interrogate Hodge, who soon fled the city after the attack but did eventually return. Only to leave the country. Then return again. Unbeknownst to Hodge and FBI brass, Bureau insiders and intelligence veterans were ignoring a stand down order and tracking Hodge. And they tailed him to many interesting places following the Las Vegas deadly shooting. More on that later.
"He did a series of radio and media interviews in Australia that were compelling," the FBI insider said. "He unknowingly divulged information during those interviews that only law enforcement knew about at the time."
The FBI source said Hodge described details of the attack and tools Paddock used that were only known to a handful of federal and local law enforcement official at the time.
"We were still processing the crime scene and Hodge was discussing evidence no one else could have known about," the FBI official said. "He was giving interviews to Australian media literally while this scene was unfolding. I'm talking minutes after Paddock's body was found in the suite, Hodge was live on air on his phone."
With the difference in time zones between Las Vegas and Australia, Hodge was being piped into homes during prime time, approximately 9 pm to 11 pm which was literally at the same time the Las Vegas mayhem was unfolding. Strangely, FBI agents noticed, Hodge never spoke to any media in the United States.
How did the Australian media locate Hodge so quickly? FBI insiders said he was posting on social media and then calling the media for interviews. The challenge for investigators is that soon after the shooting, Hodge began to scrub his Facebook, Twitter, and Instagram accounts — not only of Vegas-related posts, but of many more.
"He began deleting his online DNA so to speak," one intelligence veteran said, "Even though we were told not to we were able to recover many things that were deleted."
But not before key facts were deciphered by agents. Hodge previously lived and worked in the casino industry on the Gold Coast of Australia. Stephen Paddock's girlfriend, Mary Lou Danley, likewise previously lived and worked in the casino industry on the Gold Coast of Australia, sources said.
Strange. Small world.
Hodge's perhaps most revealing radio interview — conducted by Triple M News in Melbourne — really raised eyebrows at the FBI. A portion of it is below:
Intelligence veterans isolated immediate red flags after combing this interview, sources said.
Hodge details how victims were mowed down by gunfire below Mandalay Bay as reported by his "team." FBI sources said Hodge was likely staying alone at Mandalay Bay. Therefore, what "team?" Intelligence agents tracked Hodge after the shooting and never pinpointed any travel companions, officials said.

Hodge said Paddock used a special hammer to break the Mandalay Bay's "double-pained" glass prior to the attack. That is true. But how did Hodge know about the hammer days before it was divulged to the public? How did Hodge know what kind of glass was employed by Mandalay Bay? And how did Hodge know the glass was punched out with a hammer instead of gun fire? Remember, Hodge was divulging these details live in Australia via phone literally minutes after the attack.

The shooting scene was over 400 yards away from Mandalay Bay. It was night and the venue was likewise dark except for the stage area. How could Hodge's alleged "team" — who were supposedly fleeing the hotel in panic — see bodies dropping from 400 yards away in the dark through a mirrored exterior window?

Hodge said he had the room next to Paddock. But that room 32-134 was breached by Las Vegas Metro SWAT after Paddock was found dead on the other side of a door adjoining the two rooms. One large window was broken in Hodge's supposed room too which police believe gunfire originated from.

How did Hodge know when Paddock checked into the hotel suite? How did he know Paddock? Records show Hodge checked into Mandalay Bay the day before the shooting. How would he know Paddock checked in days earlier?
"These are red flags you pick up when listening to Hodge's interviews," one FBI insider said. "His testimony changes too from interview to interview, you can see him adding new details, things that he never talked about initially. He's telling a story and adding new wrinkles. That's an important sign as well."

Widget not in any sidebars

Hodge makes several bizarre posts to his Facebook account in the immediate aftermath of the attack. Then he deletes the posts hours later. Among the strangest is the following in which he claims that he is staying in room 32134 and Paddock was in room 32135. The post is uploaded on Oct 2, 2017 at 00:27 PST, again, amid the unfolding chaos at Mandalay Bay.
Hodge elaborates on this revelation in his first media interview with Australian newspaper The Daily Advertiser story, which again, was published amid the chaos in Las Vegas:
"He was approached by a woman who had a frantic look on her face and urged Mr Hodge and his co-workers to run.

"At the woman's urging, Mr Hodge rushed his team into an elevator and rode it down to the back of the casino.

"He and his team escaped from the hotel and hid in the bushes outside of the casino, ensuring they stayed close to the side of the building.

"Mr Hodge said he saw flashlights and then police, who encouraged them to walk to the other side of the building with their hands above their head.

"They were ushered back into the hotel, which was completely abandoned, and then encouraged to walk down the Las Vegas Strip until they reached safety."
Hodge, in this interview, maintains police ushered his 'group' back into Mandalay Bay. But the hotel at that time was being evacuated. Also, Hodge claims his team was with him as he was taking the elevator to the 32nd floor — before he ushered people back into the elevator after a woman warned him of gunfire. But during radio interviews Hodge said his team members were already back in their rooms witnessing people in the concert venue getting cut down by bullets.
And how did Hodge know the shooter was next to his room, per the Facebook post, if he was ushered back into the elevator long before he reached his room at the opposite end of the hallway?
Also, it is important to note that The Daily Advertiser in Australia published this story during the time frame when Hodge claimed he was still hiding in the bushes outside Mandalay Bay.
In another Australian news account published just an hour later in the Courier & Mail, Hodge said the shooter was next to his room with a machine gun.
"Another Australian man staying at the Mandalay Bay Resort has spoken about his close call with the Las Vegas gunman – claiming he launched his murderous attack from the room next door.

Australian Brian Hodge, who previously worked at Jupiters Casino on the Gold Coast, claimed he was staying in the room next to the shooter on level 32 at the Las Vegas resort.

'There were multiple people dead and multiple shooters. I was just hiding waiting for police to come get us.

"We were hiding in the bushes outside waiting for the police." Mr Hodge said he was staying in room 32134 while the gunman was in room 32135.

"It was a machine gun from the room next to me," he said.

"My floor is a crime scene. They killed a security guard on my floor.'"
FBI sources point out here that Hodge's account had flipped. Now, according to his testimony to the Courier & Mail, the shooting started from the suite next to his room and the shooter was firing off what sounded like machine-gun fire.
"At that point in the investigation there was no public report that a security guard had been shot," one FBI source said. "We wanted to know how Hodge knew this information at such an early stage. And why he thought the guard was killed. There was an early report that one police officer had been shot but Hodge specifically mentioned a security guard.
"That's certainly worth following up."
Also, federal law enforcement sources note that Hodge never mentioned arriving on the 32nd floor via the elevator. Instead, he was in his hotel room when the shooting began. The same hotel room with the broken window and a pair of new gloves found lying on the bed. (Paddock was wearing his gloves when he was found dead.)
In the Sydney Morning Herald, Hodge claimed police escorted him out of the hotel and told him the gunman was in room 32135, just one room away from his room.
"I'm just glad I didn't make it back to my room," Hodge said, failing to mention details about the elevator or being next to Paddock when the shooting commenced. Or hiding in bushes.
FBI agents wanted a chance to question Hodge about his ever-evolving eye-witness accounts: Was he next to the shooter or in the elevator? Was his room actually somewhere else in the hotel and Hodge was grandstanding or spreading misinformation as a cover? How did he know about the special hammer found in Paddock's room days before law enforcement divulged that fact to the public?
Even a cabal of retired FBI agents and current intelligence officials echoed similar Hodge-related red flags to Las Vegas FBI brass and LVMPD in the weeks following the shooting, urging officials to green light the federal interrogation of Hodge. Intelligence agents sought permission to question him at his workplace or apartment in Los Angeles.
But officials refused, FBI sources said. To the dismay of many.
But why was Hodge untouchable?
Even the fact that the room Hodge maintains he rented had camera wires running from a food cart in the hallway — which the FBI maintains Paddock set up as security cameras in each room — into Hodge's room (32-134).
See the photo below:
"There is so much physical evidence here that warrants Hodge as a person of interest that isn't hard to believe he wasn't told to stay in Las Vegas after the shooting for questioning," one FBI source said. "Especially with what we know about his cell phone."
What did the FBI know about Hodge's phone?
The three or four hours he said he was hiding in the bushes outside Mandalay Bay," one FBI insider said. "We ran his cell phone during and after the shooting. He wasn't anywhere near Mandalay Bay after the shooting."
So if he wasn't hiding in the bushes, where was Hodge while he was giving radio and newspaper interviews to foreign media about surviving the massacre?
Turns out, he went to great lengths to keep his locations hidden.
But the FBI knows.
And you will too in the next story (Part V) of True Pundit's Fear and Lying in Las Vegas series.
-Fear and Lying in Las Vegas Part IV