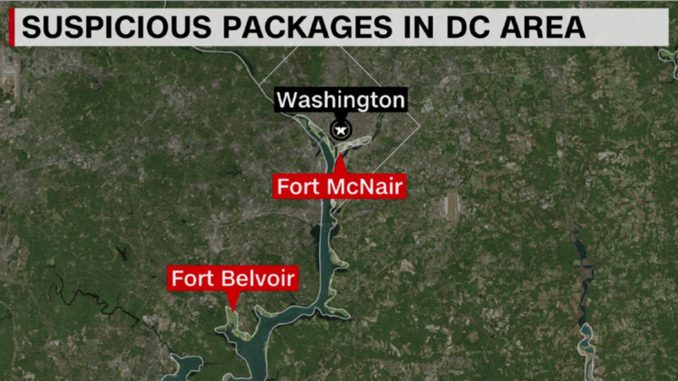 In Austin, Texas, a string of bombings kept a city on edge. Two people were killed, with five people injured. The perpetrator, Mark Anthony Conditt, killed himself by exploding a device in his car after pulling into a ditch; police had identified him as a suspect and closed in on him. We don't know his motives or planted more bombs that have yet to explode. The whole ordeal lasted three weeks. Yet, now, we have reports of several explosive devices being mailed to multiple military installations in the Washington D.C. area. The FBI is conducting an investigation. It's not known if these devices could have actually exploded. This incident began this morning around 8:30am (via NBC Washington):
The FBI is investigating suspicious packages with apparent explosive components at several U.S. military installations in the Washington, D.C., area Monday, a law enforcement official said.


Widget not in any sidebars


The National Defense University at Ft. McNair in D.C. received a suspicious package about 8:30 a.m., and the building was evacuated.

The package tested positive for black powder, which can be used to make explosives, according to Ft. McNair. An X-ray showed what appeared to be GPS and a fuse. It was rendered safe and the building was cleared about 1:15 p.m. The components are being investigated.

A suspicious package sent to Ft. Belvoir in Virginia Monday afternoon contained liquid in a vial and a circuit board, the law enforcement official said. It also was rendered safe. Ft. Belvoir did not provide any more information.

It's not clear if either was an actual working explosive device that could have been detonated.
We'll keep you updated.