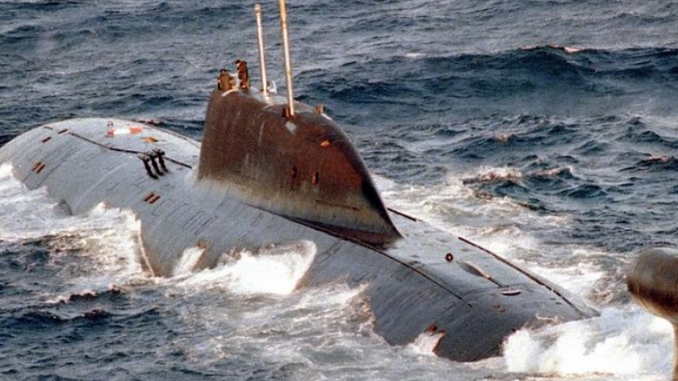 Russia says an Akula-class Shchuka-B nuclear-powered submarine went undetected on approach to U.S. coastline.
Russia's nuclear submarine went "undetected" on its approach to the U.S. coastline during an exercise near American military bases, a submarine squadron commander recently told Zveda, Russia's Defense Ministry's official broadcaster, RT reported.
The news of the nuclear submarine activity was made in a military television series on Zveda. The episode's focus was Akula-class Shchuka-B nuclear-powered submarines.
"This mission has been accomplished, the submarines showed up in the set location in the ocean and returned to base," said submarine squadron commander Sergey Starshinov.
Starshinov said the submarine went "undetected" upon close approach to U.S. shores without violating maritime borders by staying in international waters. The date and location of the undetected activity was not been disclosed.
The U.S. Navy did not respond to a request for comment.
Russia's submarine activity is at a post-Cold War high, Gen. Curtis Scaparrotti – the Supreme Allied Commander Europe of NATO Allied Command Operations, said Thursday.
"They are deploying more and they are deploying at a higher rate," he said. "The forces they are deploying are being modernized, particularly with their weapons systems."
Scaparrotti told the House Armed Services Committee that the U.S. needs to invest more to keep up with Russia's naval activity.
Scaparrotti said last week that the Russian military may surpass U.S. military capability in Europe by 2025.
"Given their modernization, the pace that it's on … We have to maintain our modernization that we've set out so that we can remain dominant in the areas that we are dominant today," Scaparrotti said. "If we were not to do that, I think that their pace would put us certainly challenged in a military domain in almost every perspective by, say, 2025."
Scaparrotti also said Russia was doubling down on efforts to control Arctic sea lanes. "They would have the capability in some time, perhaps two or three years, to control the Northern Sea route if they chose to do so," he said, adding: "We're not keeping pace."