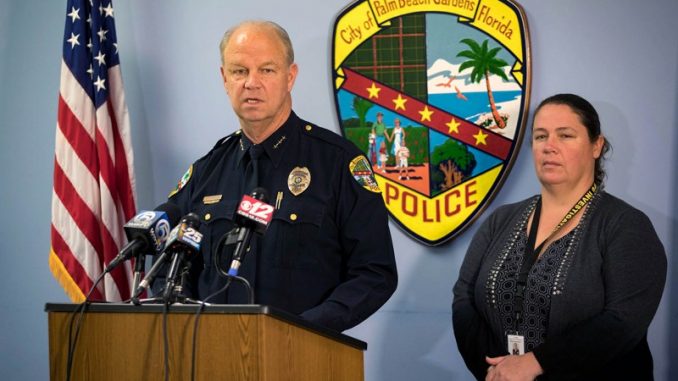 https://youtu.be/K3Kkad_GQnc
PALM BEACH GARDENS
A Jupiter teenager said his Muslim faith led him to fatally stab a boy on his 13th birthday and injure two others at a sleepover Sunday night in BallenIsles Country Club, Palm Beach Gardens police said during a 2 p.m. news conference.
Corey Johnson, 17, was arrested Monday after he reportedly confessed to stabbing the three people while he spent the night at a friend's home in the gated community off PGA Boulevard.
He faces one murder and two attempted-murder charges in the stabbings. The FBI also is investigating the attacks.
Also Tuesday, Judge Daliah H. Weiss ordered Johnson be held in a juvenile detention center while a grand jury decides whether to charge him as an adult in the killing. Friends and family of the victims packed the juvenile courtroom Tuesday afternoon for the brief hearing.
Johnson, who police said recently withdrew from William T. Dwyer High School in Palm Beach Gardens, told authorities he woke up at about 4 a.m. Monday at his friend Kyle Bancroft's home. He decided to kill Kyle's mother, Elaine Simon; Kyle's brother, Dane, 13; and Dane's friend, Jovanni Sierra, 13, while they slept, he said.
Dane reportedly had "made fun of" Johnson's Islamic faith, the teen said, according to the police report. Jovanni Sierra, who turned 13 on Monday, referred to celebrities as "gods," Johnson said. That upset him because it is contrary to the Islamic faith to idolize others as a god, he said.
Johnson and Kyle watched violent jihadist videos Sunday night, they said. Johnson stabbed Jovanni Sierra and slit his throat with a knife he had brought with him to the house.
Johnson said he read the Quran before going to the house. He turned to the Muslim holy book "to give him courage to carry out his intentions," according to an arrest report.
American Islamic leaders have repeatedly condemned expressions of their faith, the second largest in the world after Christianity, that involve violence and terrorism, especially since the 9/11 attacks in 2001.
Shortly before 6 a.m. Monday, Simon — a family-law attorney based in Palm Beach Gardens — heard what sounded like Jovanni Sierra moaning. She went upstairs to investigate.
A spokesman for St. Mary's Medical Center said Tuesday that Simon was in good condition. He said he could not comment on Dane's condition because he is a minor.
Johnson barricaded himself in a room when police arrived. He was taken into custody at about 8 a.m. by the city's SWAT team. Jovanni Sierra was found dead in the home.
Interim Chief Clint Shannon said Jupiter police, Palm Beach County School District police and the FBI previously investigated Johnson for "alleged violent tendencies" that they received through "intelligence gathering" in the northern part of the county.
Shannon said Palm Beach Gardens' only previous encounter with Johnson occurred at 3 a.m. Feb. 28 when he and four other juveniles were stopped on Holly Drive, just east of Military Trail.
The juveniles were released into the custody of their parents. Johnson was in company of Kyle and Dane Bancroft, Shannon said.
Dane and Jovanni Sierra were seventh-graders at Watson B. Duncan Middle School in Palm Beach Gardens, according to officials. Principal Philip D'Amico notified parents of the deaths with a recorded call Tuesday morning.
"Your students may have heard some tragic news via social media regarding one of their fellow students, who was fatally wounded in an incident at a private residence. Another student was injured. Police are still investigating the incident, and we have no information about the case; however, we have no reason to believe it was related to anything involving the school," D'Amico said in the call.
D'Amico added that Duncan will have counselors available to help students, teachers and staff.
Local Islamic organizations said they were unfamiliar with Johnson. Wilfredo Ruiz, communications director for the Council on American-Islamic Relations in Florida, said from Miami that officials of the mosque told him they do not recall seeing the boy or knowing of him.
A person who answered the phone at the Islamic Center of Palm Beach in North Palm Beach said he did not recognize the name. Calls to the Muslim Community of Palm Beach County mosque in West Palm Beach were not returned.
This is second reported homicide in Palm Beach Gardens in 2018 and the second to touch BallenIsles. Alan J. Abrahamson, a 71-year-old BallenIsles homeowner, was found dead early Jan. 25 near a sidewalk by the intersection of PGA and Central boulevards, northeast of the community. Police have not made an arrest in his death.