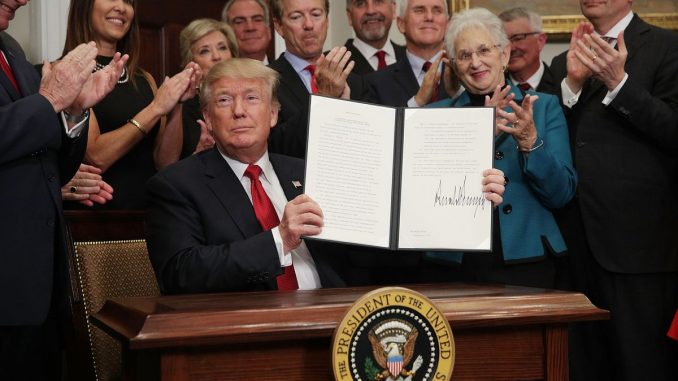 Late last year, President Trump issued Executive Order 13813, "Promoting Healthcare Choice and Competition Across the United States." The goal was to help more Americans access additional affordable health care options. The executive order prioritizes three areas for improvement: association health plans (AHPs), short-term insurance, and health reimbursement arrangements (HRAs).
Enhancing additional affordable options are important given emerging news stories about non-subsidized families and individuals facing crushing insurance premiums and out of pocket costs and increases under the ACA.
AHPs Can Increase Options and Lower Premiums
In response to the executive order, the Secretary of Labor issued a proposed rule that has the potential to improve access to coverage for millions of Americans who operate or work for small employers by allowing more employers to form AHPs.
Though larger employers are not restricted from joining AHPs, the primary target and beneficiaries of AHPs will be small employers, generally with 50 or fewer employees. As highlighted in the proposed rule, these groups have seen declining rates of coverage in recent years—47 percent of small employers offered coverage in 2000 while only 29 percent did in 2016. In 2015, small employers insured 24 million workers and dependents.
The decline in coverage has left a significant number of potential beneficiaries without the benefit of lower premiums and greater choice that AHPs can offer.
While AHPs have existed for decades, enabled under Title 1 of the Employee Retirement Income Security Act of 1974 (ERISA), most are treated as a collection of plans sponsored by each individual employer within the association rather than as a single health plan. This results in a litany of regulatory complexities that discourage the adoption of AHPs and prevent the primary objective of aggregating in the first place, to gain the advantages of scale enjoyed by large employer health plans.
AHP Rule Brings Simplicity and More Access
The proposed rule simplifies the criteria for finding "commonality of interest"– the threshold needed to consider associations a single health plan. The administration would be wise to broaden the proposed regulation to establish a third category of employers that qualify, (employee stock ownership plan) or ESOP -owned companies as their national associations would be a natural fit to establish and operate an AHP.
However, in pursuit of making AHPs more available to small employers, the proposed rule also does four things:
Allows the formation of associations purely for purchasing insurance;

Allows non-homogeneous groups of employers to form AHPs within a state or metropolitan area;

Enables homogeneous groups of employers to form AHP's regardless of the member employers' location;

Provides for working owners of small businesses and their dependents to participate as an employer group in an AHP even if they do not have additional employees beyond themselves or their spouse.
AHP Rule Keeps Important Safeguards
The proposed rule appears to be sensitive to other insurance market dynamics and takes a number of steps to mitigate the potential for adverse consequences. For example, it maintains state oversight to combat any abuses of AHPs that have taken place in the past and follows a Congressional amendment to ERISA in 1983. The proposed rule additionally requires a minimum organizational structure for AHPs, and imposes certain HIPPA nondiscrimination protections for potential members.
The proposed rule takes a sufficiently balanced approach to expand the opportunity for growth of AHPs while protecting the existing insurance markets. The inclusion of working owners of small businesses who often find themselves restricted to the volatile individual insurance market is particularly encouraging.
Small employers have seen significant health insurance premium inflation since the passage of the Affordable Care Act, combined with restricted choice of plans to offer their workers—AHPs could provide valuable new options for coverage and encourage more small firms to provide health coverage to their employees.