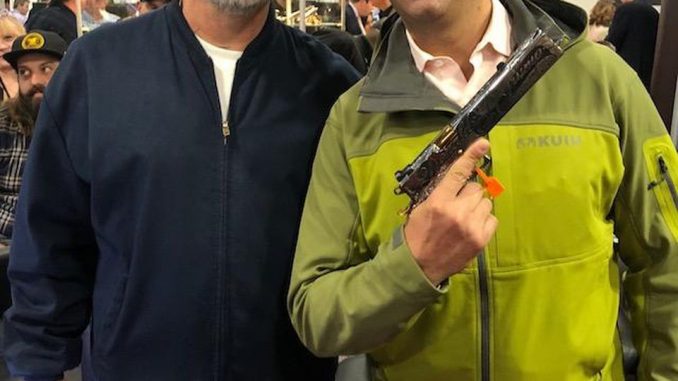 Jesse James, who appeared on the second season on "Celebrity Apprentice," has made a .45 for Donald Trump, the 45th President of the United States.
The CEO of Jesse James Firearms Unlimited, an Austin, Texas-based firearms manufacturer, James has remained friendly with the President and says Trump "has seen the finished product, and he is very pleased."
James intends to present the President with the firearm at a future date. "I will take the gun to the White House and give it to him," James explained in an email. "Hopefully, it will end up on display in his presidential library."
The Trump .45 is a bespoke version of the JJFU Grand Master X 1911 pistol.
"This would give me enough real estate to put his full name down," James noted. "Makes a bold statement with no abbreviations. Plus the gun is pretty bad a**."
Of course, this is no ordinary firearm. It's made out of 412 stainless steel with 24-karat gold plating. The wood inlay is "from one of George Washington's original Chestnut trees."
One side reads "Donald J. Trump" in script, and the other side reads "The 45th President United States of America." It also includes the presidential seal.
So what's the value of a gun fit for a president? James isn't saying. "I don't want to disclose the value, but it did take me a solid year to finish."
When asked what he thought Trump's response would be, James speculated: "I'm pretty sure he's going to want to put some rounds through it."
He also suggested Trump might use it for leverage. "I hope he uses it as a negotiation tool. You know, just casually pull it out and set it on his desk, 'Have you seen my Jesse James pistol?'"
James has made firearms for other high-profile individuals previously. Before the demise of Brangelina, he made a pair of custom Cisco 1911 pistols for Brad Pitt and Angelina Jolie. Jolie's was engraved: "MAMA KNOWS BEST." Pitt's was engraved: "BIG PAPA." His customers also include Rick Perry, the Texas governor turned Secretary of Energy under Trump, who described James as an "amazing artist" on Instagram — and added "#1911heaven." In addition, he's made 1911s for Eric Clapton, Kid Rock, and is working on "a new super size one for Shaq."
Trump's piece comes in its own handcrafted presentation box, which includes wood from Washington's original chestnut trees.
James chronicled the making of his Trump pistol on social media, much to the delight of his followers. A sneak peek at the presidential seal engraving last November generated over 20,000 likes. "Love it," Donald Trump Jr. commented.
On his personal Instagram feed, James shared why he made the presidential pistol. "I think it's pretty much the Law," he wrote. "If you build guns and your friend becomes President. You build him a Bada** gun!" That post generated nearly 60,000 likes.
James has his Trump .45 on view this week at SHOT Show in Las Vegas, Nevada. Known colloquially as "SHOT," the event is the shooting, hunting, and firearms industries' annual trade show. Last year's event was attended by approximately 65,000, according to the National Shooting Sports Foundation, which owns and operates the show.
Today at SHOT Show, Donald Trump Jr. posed with James and the firearm James made for his father.