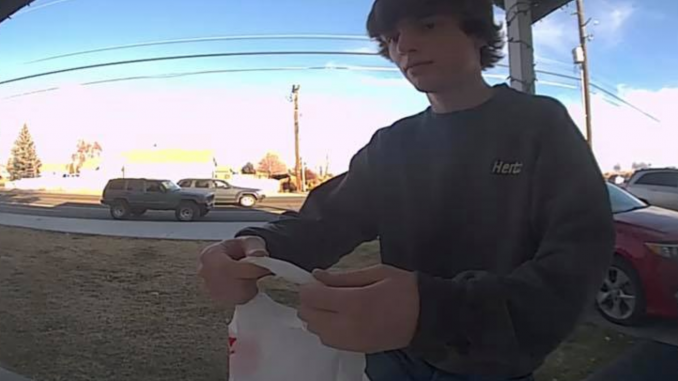 MOSES LAKE – A kind gesture by two teen brothers in Moses Lake is getting a lot of attention on social media.
On Sunday, Junior Villarreal of Moses Lake posted a message about a young man who dropped off an American flag in a bag on his porch. Junior lives in a home on South Division near Montlake Park. On Saturday, Junior said he noticed a garbage bag on his doorstep with an American flag in it and was curious as to who dropped it off so he reviewed his security camera footage and noticed it was a young man. Junior said his existing American flag on his property was tattered and realized that this flag was a replacement for him. Junior said he didn't know the teen and posted a picture of him from the security camera and tried to solicit information on who this kid is. Junior eventually found out, and reached out to the teen on Facebook thanking him and asked if he could pay the young man back but was told that no repayment was needed.
iFiber One News reached out to Junior who confirmed that the teen is 18-year old David Phillips of Moses Lake. iFiber One News then reached out to David's mom, Simone Phillips who told us the story behind David's kind act. Simone says David and her 16-year old son Luke were traveling through the area and noticed the flag. Later that day, she said the boys came home and talked about getting a new flag for the home's owner. After some debate, Simone said her son Luke pulled his American flag off his bedroom wall and offered it up as the home's replacement flag. On Saturday, just after 4p.m., David hung a garbage bag with the flag in it on Junior's front door.
"It was out of respect for the flag," explained Simone Phillips.
The Phillips are a military family. David's and Luke's grandfather served in the Airforce and other extended family were also in the military.
"With all the negative news about school shootings, it was a really nice to see a teenager do something like this," said Villarreal. Simone Phillips told iFiber One News that Villarreal's comment is greatly appreciated and that the attention her son is getting defies preconceived notions about teens being mischievous.
As far as what the rest of Columbia Basin community thinks, most, if not all of the comments have given praise to David.
The flag the story is referring to is pictured below: