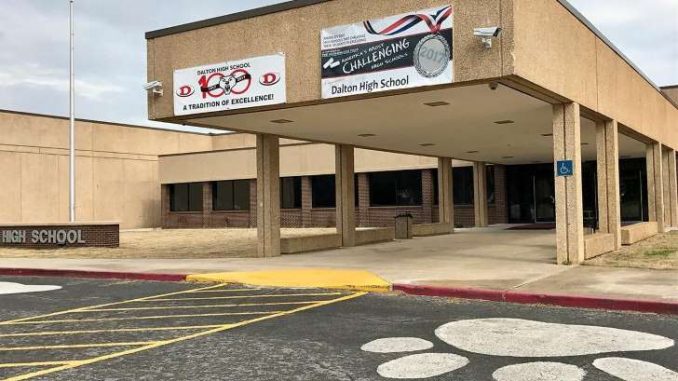 A Georgia high school teacher who fired a gun in a classroom Wednesday previously told police he hired two friends to kill someone on his behalf, a report said.
Jesse Randall Davidson, 53, allegedly fired at least one shot inside a Dalton High School classroom, then barricaded himself inside until he surrendered to police. Davidson, a social studies teacher, is known as the "radio voice" during the school's football and basketball games because of his play-by-lay announcements, Atlanta Journal-Constitution reported.
Police revealed details about the high school teacher's past, including when Davidson went to detectives on March 21, 2016, and said he arranged to have someone killed, AJC reported, citing a police report. He reportedly ordered to have the individual killed because he had an online affair.
© Provided by Fox News This undated photo provided by the Whitfield County Sheriff Office shows Jesse Randal Davidson. Social studies teacher Davidson barricaded himself inside a classroom at Dalton High School in Dalton, Ga…
Police said they couldn't verify what Davidson told them or if the individual existed. Davidson was taken to the hospital "based on him thinking about hurting himself," the police report stated.
The school was aware of the incident at the time.
GEORGIA TEACHER IN CUSTODY AFTER ALLEGEDLY OPENING FIRE IN CLASSROOM, POLICE SAY
In another incident that occurred January 2017, Davidson was found sitting on the curb about a mile away from Dalton High School and refused to respond to police, the report stated. Davidson had left school early that day after he said he wasn't feeling well.
Davidson was taken to the hospital and police did not take further action.
Davidson, who has been with the high school since 2004, was arrested Wednesday and charged with aggravated assault, carrying a weapon on school grounds, terrorist threats, reckless conduct, possession of a gun during commission of a crime and disrupting public school, according to police.
The gunshot heard just before noon ignited panic and chaos among students and faculty members. Some students were sent running down the hallways and out of the school. Others barricaded themselves in classrooms.
"It wasn't a drill. And we had to get down and barricade the doors so nobody could come in. Nobody knew what was going on at the time," Jayden Boston, a Dalton High School student, told WSB-TV.
Davidson was found with a handgun, which he carried into the building by placing it in his computer case, Dalton Police spokesman Bruce Fraizer said. Police took the 53-year-old into custody after a 30- to 45-minute standoff.
TRUMP CALLS FOR ARMING TEACHERS, RAISING GUN PURCHASE AGE TO STOP 'SAVAGE SICKO' SHOOTERS
Wednesday's incident occurred two weeks after a gunman opened fire inside Marjory Stoneman Douglas High School in Parkland, Florida, killing 17 people. President Trump called on arming teachers in classrooms shortly after to increase school safety after the deadly shooting.
"I never said 'give teachers guns' like was stated on Fake News @CNN & @NBC. What I said was to look at the possibility of giving 'concealed guns to gun adept teachers with military or special training experience- only the best," Trump tweeted last Thursday when defending his proposal.
The Associated Press contributed to this report. 
Dalton High School shooter,
Jesse Randall Davidson, 53:

[x] Lifetime Registered Democrat
[x] Made threat in advance, FBI ignored, too busy with fake Russian Collusion
[x] Made anti-NRA/anti-Trump Social Media posts
[x] Male Feminist
[x] Gun Control donor pic.twitter.com/8zEZSGT06e

— R. Wolfe (@WhoWolfe) February 28, 2018