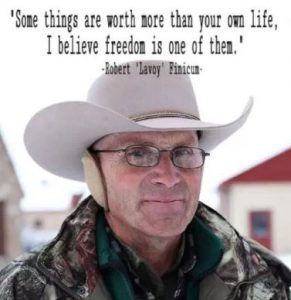 [embedyt] https://www.youtube.com/watch?v=uH4PInHFfOc[/embedyt]
A federal judge on Monday declined to dismiss any of the five charges against indicted FBI Agent W. Joseph Astarita, who is accused of lying about firing two shots at Oregon standoff spokesman Robert "LaVoy" Finicum's truck in early 2016.
U.S. District Judge Robert E. Jones said no evidence at this point justifies dismissal of any of the counts. He called the defense motion to throw out four of the five counts premature.
Astarita's lawyers had argued that the three counts of making a false statement and two counts of obstruction of justice are needlessly repetitive and will prejudice Astarita and confuse a jury. Astarita has pleaded not guilty to all charges.
Meghan Ferguson, a Washington, D.C.-based lawyer for Astarita, called the indictment an "impermissible five-count pileup" by the government stemming from one alleged lie and one alleged harm that should amount to one alleged crime.
Assistant U.S. Attorney Gary Sussman countered that Astarita, a member of the FBI's elite Hostage Rescue Team, lied five different times to three supervisory FBI agents and in two interviews with Oregon State Police detectives.
"Defendant told different lies at different times to three different FBI supervisors with different roles and responsibilities," Sussman argued.
An investigation found that only Astarita could have fired two rounds shortly after Finicum stepped out of the cab of his pickup truck after he swerved into a snowbank to avoid a police roadblock on U.S. 395 on Jan. 26, 2016, the prosecutor said. Astarita's first rifle shot missed Finicum's truck, but the second entered the truck through the roof and blew out the left rear passenger window, Sussman told the court.
The shooting came as the FBI and state police moved to arrest the leaders of the armed occupation of the Malheur National Wildlife Refuge as they drove to a meeting in John Day. State police shot and killed Finicum, 54, a short time later at the scene after he walked away from the truck and reached into his jacket towards his left inner pocket, where he had a loaded gun, investigators said.
At the scene shortly after the shooting, an FBI supervisory agent, identified by the initials "I.M.," responded to find out if any of the hostage team agents had fired their weapons.
He asked each of the agents, "Are you OK? Did you shoot?'" Sussman said. "Everyone answered except one."
Astarita didn't directly respond, instead replying, "You don't got to ask me that, bro," or "You can't ask me that, bro," Sussman said.
When the FBI supervisor I.M. asked him again, Astarita responded, "No, bro, we're good," according to Sussman.
Astarita's lawyers argued that their client's "flippant remark" can't be construed as a lie, since his answer wasn't responsive to the question. They urged the court to dismiss that count, for example.
They also argued that the government could only identify one single harm that resulted from any alleged lie: the failure of the FBI to call out its Shooting Incident Response Team immediately to initiate a shooting investigation, seize the agent's rifle and collect evidence.
Astarita is accused of telling two different FBI supervisors on the night of Jan. 26, 2016, that he hadn't fired any gunshots. Later that night, state police detectives interviewed the five FBI Hostage Rescue Team agents separately, and none said they had discharged their weapon.
Sometime between Jan. 26 and Feb. 6, 2016, Astarita was asked by another FBI supervisory agent, with the initials "T.S.," if he had fired his rifle that night, and he said no. By then, the local investigators had alerted the FBI that there were two unaccounted gunshots, that they appeared to have come from an FBI agent, that bullet casings were missing and aerial video showed Hostage Rescue Team agents looking around on the ground and under Finicum's truck after the shooting, Sussman said.
Astarita was interviewed a second time by state police on Feb. 6, 2016, this time with two other FBI agents who were also present at the shooting scene. It appears Astarita didn't speak during this February interview, as all the agents were represented by a lawyer and state police were told the agents wouldn't answer any questions previously asked.
Ferguson said the Oregon State Police detectives during this last interview were hoping for a confession, "which they never got."
Whether a bullet or a metal fragment is lodged in the shoulder of Ryan Bundy, who was hunched down in the back seat of Finicum's truck, remains a mystery to prosecutors.
"Bundy thinks so," Sussman told the judge. "We're not sure. He hasn't been cooperative. We do know the bullet blew out the back window of the truck. Unfortunately we don't have it."
The judge asked prosecutors why they didn't restrict the charges to their strongest evidence, such as Astarita's flat-out denials of firing any shots?
"Why are you muddying up the waters with these soft counts?" Jones asked. "Why are you preceding with weaker evidence when you got such strong evidence?"
Sussman said the grand jury returned the five-count indictment based on the five separate circumstances of Astarita's alleged lies.
"The jury should be hearing how the whole story unraveled," Sussman said.
The judge said he believes it's better to "simplify" rather than "amplify" charges for a jury.
"But that is a strategy that is not my job," Jones said. "That's up to the prosecution."
The judge left open the possibility that he could dismiss some of the counts during a trial upon hearing the evidence, before sending the case to a jury for deliberations.
Ferguson argued that waiting until trial would unfairly prejudice the defendant and imply to the jury that the other counts that remain "are good."
In related action, defense lawyers in their motion to dismiss wrote that prosecutors had conceded the bullet trajectory analysis of the shooting by a Deschutes County sheriff's deputy and the Tri-County Major Incident Team was somehow flawed. They noted that the government hired new experts for trial.
Sussman refused to let those sentences stand. "That, Your Honor, is pure fiction. We never conceded that the original analysis was flawed," he said. "We did hire new experts. We didn't concede anything. We just wanted to make the evidence stronger."
Astarita waived his appearance at Monday's hearing.
The two sides are expected to return to court in May to determine what expert testimony will be admissible at trial, which is set for July 24.