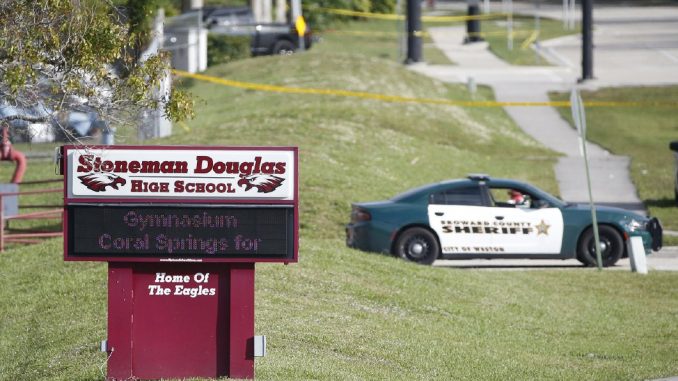 A school resource officer assigned to Marjory Stoneman Douglas High School in Parkland, Fla., remained outside of the high school when a shooter opened fire on students and teachers last week and did not engage the shooter.
Broward County Sheriff Scott Israel said video footage showed the deputy, Scot Peterson, arrive on the west side of the high school's freshman building and take up a position. Peterson, though, did not enter the school.
Israel said Peterson was armed and in uniform but did "nothing."
"What I saw was a deputy arrive at the west side of Building 12, take up a position and he never went in," Israel said."
When asked what Peterson should have done, Israel said the deputy should have, "Went in, addressed the killer, killed the killer."
"Devastated. Sick to my stomach. There are no words," Israel told reporters Thursday.
MORE: Broward Sheriff Israel says armed school resource deputy who was on duty at Stoneman Douglas the day of the shooting "never went in." The deputy was suspended without pay pending investigation, but he opted to resign/retire, Sheriff Israel says. https://t.co/bfmAHPYL7a pic.twitter.com/RfT74NcRDf

— ABC News (@ABC) February 22, 2018
The video showing Peterson will not be disclosed at this time, and Israel said it may never be made public "depending on the prosecution and the criminal case."
Israel said he suspended Peterson without pay pending an internal investigation, but Peterson then resigned.
Seventeen people were killed and more than a dozen were injured in the shooting at the Parkland, Fla., school last week. Ex-student Nikolas Cruz, 19, has been identified as the shooting suspect and has admitted to opening fire at the high school.