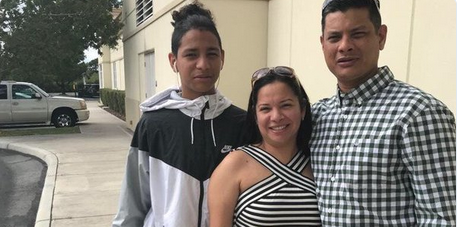 A heroic 15-year-old put his own life on the line when he shielded fellow students from a barrage of bullets while trying to keep a gunman from entering their classroom during Wednesday's mass shooting at a Florida school, saving as many as 20 lives, PEOPLE confirms.
Anthony Borges is recovering in the hospital after being shot five times trying to shield his best friend and other teens from the hail of gunfire coming at them during the mass shooting at Marjory Stoneman Douglas High School in Parkland, which left 17 dead, say police.
As alleged gunman Nikolas Cruz, 19, fired an assault weapon at terrified students and educators, Anthony and a group of students ran into a classroom to hide from him, shooting survivor Carlos Rodriguez told ABC's "Good Morning America."
 Barricading the door with his own body weight, Anthony placed himself between alleged gunman and the other students, said Carlos about his best friend.
Anthony was trying to lock the classroom door when he was shot, said Carlos.
"None of us knew what to do. So, he took the initiative to just save his other classmates," he said.
Although Anthony had been hit in the back and legs, he still managed stand against the door to keep it shut, saving the students huddled inside, who were all uninjured.
Anthony's father, Royer Borges, calls his son a hero.
During the gunman's rampage, Anthony "was able to save about 20 other students as he attempted to close and lock the door to a classroom," Royer Borges wrote on a GoFundMe page set up to help the courageous teen, which has raised more than $198,000 so far.
"He was shot multiple times," his father wrote.
Both legs were shot, his left upper thigh bone was shattered and a bullet went through his back, he wrote.
Anthony is in stable condition and has undergone several surgeries.
Royer Borges told ABC News that Anthony called him after the shooting. "He says, 'Dad, somebody shot me in the back and my leg, too."
He asked for prayers for his son's recovery.
"He's my hero," Royer Borges said.
On Sunday, Broward County Sheriff Scott Israel stopped by the hospital to see the 15-year-old soccer player who saved so many lives.
"The Sheriff was honored to visit Anthony Borges, 15, in the hospital," his office said in a Twitter post Sunday.
While he is recovering, "he has a long road ahead of him with more surgeries needed," the post continued.
https://twitter.com/browardsheriff/status/965354476608606209?ref_src=twsrc%5Etfw&ref_url=http%3A%2F%2Fpeople.com%2Fcrime%2Fheroic-15-yr-old-shot-5-times-saving-20-students%2F
Anthony has been bombarded with praise on social media for his heroic act. Soccer star Landon Donovan posted the teen's GoFundMe account in a Twitter post saying, "Soccer community: One of our own was a hero last week and needs our help. Please donate if you can."
https://twitter.com/landondonovan/status/965604052804530177
Cruz, 19, the suspected gunman, is in custody and is being held without bond. He has been charged with 17 counts of premeditated murder and has not yet entered a plea. He is a former student of the school who got expelled for disciplinary reasons, said Israel.