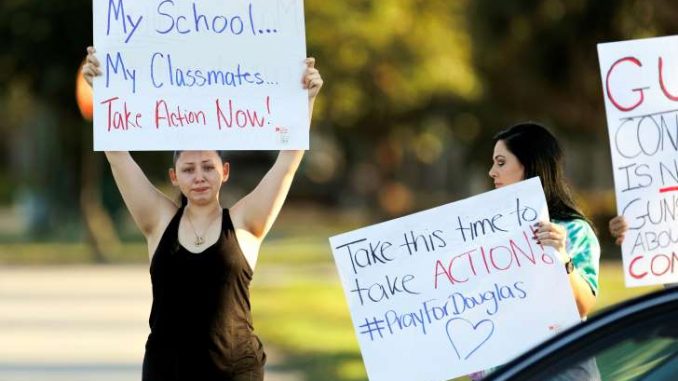 In response to Wednesday's school shooting in Florida, high school students and teachers across the country are planning walkouts this spring to push Congress to act on guns.
On Twitter, students used the hashtags #NationalSchoolWalkout, #April20 and #April20Walkout to plan mass boycotts on the anniversary of the Columbine High School shooting on April 20, 1999, as well as a separate walkout on March 14. Thousands have signed a petition from the Twitter account "National School Walkout." The goal: to make Congress listen to a population that, for the most part, doesn't have voting rights.
"Nothing has changed since Columbine," reads the petition on change.org. "Let us start a movement that lets the government know the time for change is now."
It's unclear where, exactly, the movement started, and there's a separate school walkout planned for March 14, which was circulated by the Twitter account "Women's March Youth." That walkout will last for 17 minutes, to honor the 17 victims in the Parkland, Florida, shooting at Marjory Stoneman Douglas High School.
"Enough is enough!" the post reads. "Women's March Youth EMPOWER is calling for students, teachers, and allies to take part in a #NationalSchoolWalkout for 17 minutes at 10am on March 14, 2018."
On a Facebook event page with thousands of attendees, organizers of the Women's March urged not only students but also parents, teachers and administrators, to join in for the 17 minutes.
"Parents have the right to send their kids to school in the mornings and see them home alive at the end of the day," they wrote.
It's a call to action from a demographic that has been vocal during this week's tragedy. Twitter accounts from classmates of those killed on Wednesday featured strong words for anyone who doubted the need for gun laws. In a response to a tweet from President Donald Trump offering "thoughts and prayers" for the victims, a student of the high school tweeted: "Why was a student able to terrorize my school mr president."
Source: MSN News