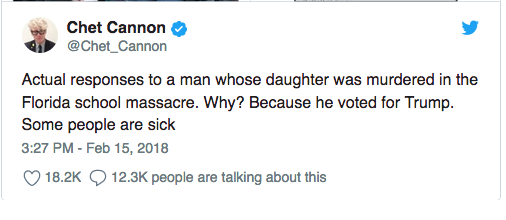 On Wednesday a man named Andrew Pollack was photographed searching for his daughter, Meadow.
Thursday Pollack said, "she's gone" after finding out his daughter was killed by mass shooter Nikolas Cruz.
Evil liberals hurled insults to the grieving father simply because he's a Trump supporter.
Liberals are pure evil. They have zero decency.
Some of the vile insults from liberals include, "I don't feel sorry for him and f*ck Trump" and "Maybe he should have thought twice before voting for Terrorist Trump" (screenshot below)
Reporter Alexandra Seltzer spoke with Meadow Pollack's aunt. She was loved by her big family.Seltzer tweeted: Just spoke with an aunt of Meadow Pollack. "She was beautiful. We all loved her. She had a big family that loved her. She was so special to all of us. The light of our life."

Liberals never stop with their hate.

https://twitter.com/Chet_Cannon/status/964234637760389121

Source: Gateway Pundit