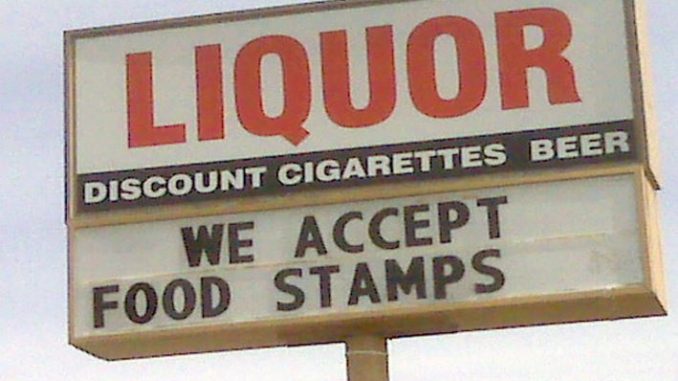 The Trump administration has a proposal to replace some of the Supplemental Nutrition Assistance Program's (SNAP) cash benefits with boxes of physical food.
The plan, outlined in the administration's budget blueprint for fiscal year 2019, is being dubbed "America's Harvest Box" by the Department of Agriculture. It would provide 16.4 million households, about 81% of current food stamp recipients, with boxes of non-perishable food items grown by U.S. farmers in place of some of their SNAP aid. The government's proposed program would apply to households that receive more than $90 in food stamp benefits.
Items that could be included in a government-issued food box are grains, peanut butter, canned meat, canned fruits and vegetables, juice and other shelf-stable products, according to the Department of Agriculture. The government would decide what to include based on nutrition guidelines utilized for other, existing programs, such as the Emergency Food Assistance Program, and the Food Distribution Program on Indian Reservations.
Under current SNAP guidelines, Americans are free to spend their benefits on food items of their choice.
Office of Management and Budget (OMB) Director Mick Mulvaney compared the proposal to a "Blue Apron-type program," which is a meal kit delivery service that provides members with ingredients to cook their own meals.
Blue Apron declined to comment on the government's program.
America's Harvest Box could save the country $129.2 billion over the course of a decade, the government said, since it can leverage its buying power to procure better deals with sellers. It also falls in line with the president's promise to promote a "Buy American, Hire American" agenda.
As of November 2017, more than 41 million low-income individuals participated in the food stamps program, with an average benefit per person of $127.73, according the program's website. The total cost of SNAP in the month of November was about $5.3 billion.
Benefits are currently distributed through an Electronic Benefit Transfer card, which SNAP likens to a debit or credit card. Those unaffected by the government's food-sourcing proposal would continue to receive their benefits through this account.
The budget blueprint, released on Monday, proposes trimming funding for SNAP by 25%, or $193 billion, over the course of 10 years. It would also shift part of the cost of the program onto states.
Source: Fox Business