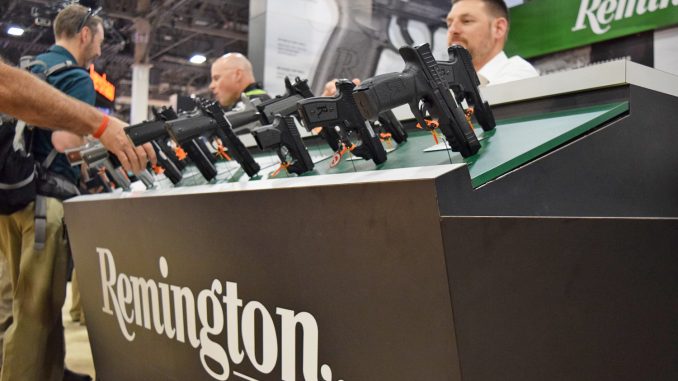 Remington Outdoor Company, one of the largest gun makers in the country, reached a restructuring support agreement with creditors to reduce outstanding debt and fund operations during bankruptcy proceedings.
Creditors agreed to reduce Remington's outstanding debt by some $700 million and to contribute $145 million in capital to fund operations, according to Monday's statement.
The restructuring agreement sets conditions for reorganization of debt payments due in 2019 and 2020 through a pre-packaged plan for chapter 11 protections to be filed in a Delaware bankruptcy court. The company's loan debt is more than $950 million.
In addition to allowing the company to maintain business operations throughout the process, the plan will also arrange a new asset-based loan facility at emergence, the proceeds of which will refinance the existing ABL facility in full, and lenders will receive 82.5 percent of the equity plus their share of $2.67 million in cash.
"We will emerge from this process with a deleveraged balance sheet and ample liquidity, positioning Remington to compete more aggressively and to seize future growth opportunities," Remington chief executive officer Anthony Acitelli said in the statement. "We look forward to serving our customers, our partners throughout the industry, and our many fine employees, now and long into the future."
Rumors had been circulating leading up to Monday's announcement, headed by reports by Thomson Reuters revealing that Remington had been preparing to file for bankruptcy protections. The North Carolina-based company had been struggling amid sluggish gun sales and a lack of investors. Nine months in, Remington's sales fell by 38 percent last year and trailed the year before by some $177 million, according to financial filings.
Yet, Remington had laid the groundwork to improve production. In 2014, Remington began relocating manufacturing operations for its more than a dozen brands to Huntsville, Alabama. The company projected that the effort would reduce operating costs by tens-of-millions.
"Difficult industry conditions make today's agreement prudent," Remington's executive chairman Jim Geisler said in the statement. "I am confident this regrouping ensures that Remington will continue as both a strong company and an indelible part of our national heritage."
Source: Guns.com