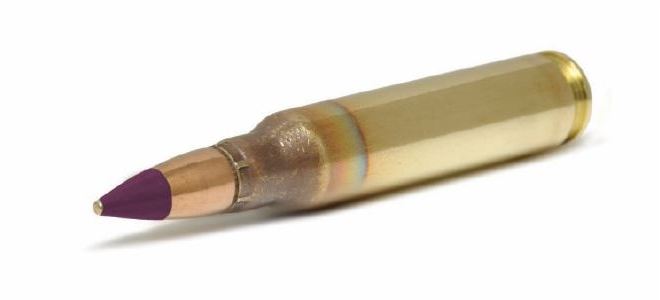 IMI Systems has published a news release telling about their new enhanced performance 5.56x45mm ammunition called 5.56APM (Armor Piercing Match). The round is completely developed and they are already manufacturing it. It is supplied to IDF (Israeli Defense Forces) for testing and evaluation.
The new bullet is a 73-grain full metal jacketed boat tail projectile designated by IMI Systems as APHC (Armor Piercing Hard Core). The 5.56APM is designed to provide better penetrating capabilities compared to existing 5.56x45mm NATO projectile options. The company also states that the new bullet has better barrier penetration performance compared to 7.62x51mm NATO at up to 800-meter distance. It is also more accurate than the 7.62x51mm. IMI Systems claims that the test results show the new 5.56APM to be 30% more accurate compared to the 7.62x51mm M80 projectile at up to 550 meters.
As shown in the above image, the 5.56APM achieves 100% penetration results when fired on a NATO 3.4mm steel plate at distances up to and including 800 meters.
With the limitation of the cartridge shape, case capacity, and the overall length, you can achieve a better performance arguably by either having a new powder and/or new materials of the projectile (considering the pressure level being the same). Here is how IMI Systems describes the way they achieved this kind of enhanced performance:
IMI says that the breakthrough development was achieved by a new bullet design, the type of powder used & the way the bullet is inserted into its shell casing. A new type of primer was also used in order to achieve overall excellent performance.
Unfortunately, there is no information concerning the bullet core construction, materials used, pressure and muzzle velocity.
You can read the IMI Systems news release by clicking here or download it via the following link.
Source: TheFirearmBlog.com
Sources:
"IMI Systems 5.56APM new round provides the combat soldiers with the firepower of a platoon". (2018, February 04). IMI Systems. Retrieved from: http://www.imisystems.com/mediacenter/imi-systems-5-56apm-new-round-provides-combat-soldiers-fire-power-platoon/