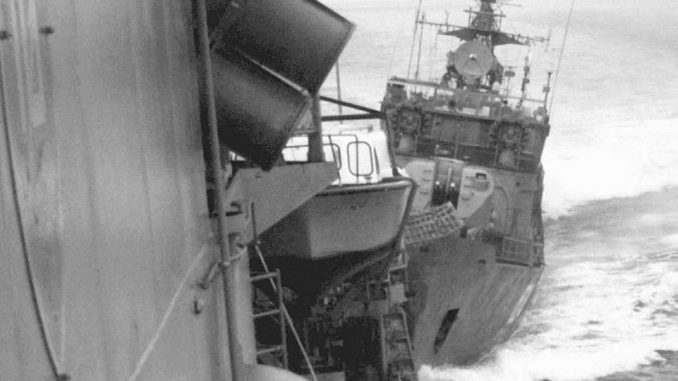 On This Day, February 12th in 1988 – Two Soviet warships bump two U.S. navy vessels in waters claimed by the Soviet Union. The incident was an indication that even though the Cold War was slowly coming to a close, old tensions and animosities remained unabated.
The incident between the ships took place in the Black Sea, off the Crimean peninsula. The American destroyer Caron and cruiser Yorktown were operating within the 12-mile territorial limit claimed by the Soviet Union. They were challenged by a Soviet frigate and destroyer and told to leave the waters. Then, according to a Navy spokesman, the Soviet ships "shouldered" the U.S. ships out of the way, bumping them slightly. There was no exchange of gunfire, and the American ships eventually departed from the area. There was no serious damage to either U.S. vessel or any injuries.
In many ways, the incident was an unnecessarily provocative action by the United States. For many years, the United States had challenged the Russian claim of a 12-mile territorial limit in the waters off the Crimean peninsula. However, the timing and the use of the Caron in this particular operation made this a rather foolish act. The United States and the Soviet Union were engaged in negotiations to limit long-range nuclear weapons, and in December 1987, the important INF Treaty, by which both the United States and the Soviet Union agreed to eliminate their medium-range nuclear missiles in Europe, had been signed. The Caron was well known as an intelligence gathering vessel and its appearance in waters claimed by the Soviets would be seen as suspicious at best. For their part, the Soviets probably overreacted. American ships regularly moved through the area and were usually unchallenged. Perhaps the Soviet military felt a message should be sent that Russia, which was experiencing severe economic and political problems, was still a nation to be taken seriously as a major military power.