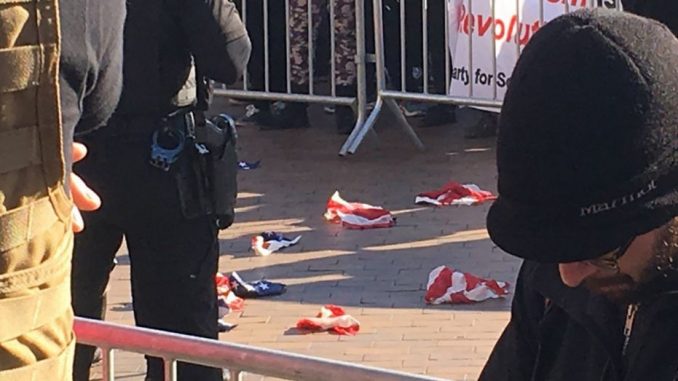 Five people were arrested as fights broke out and at least one American flag was burned Saturday after a college Republican rally in Seattle drew counter-protesters.
College Republicans at the University of Washington had invited members of Patriot Prayer, a group in Vancouver, Wash., to speak in the university's Red Square for a "freedom rally," the Seattle Times reported.
The goals were to bring conservatives together and promote free-speech rights, College Republicans President Chevy Swanson told the Times. As the event got underway, supporters chanted "U-S-A!, U-S-A!," and signs included one that read, "We died for liberty not socialism."
Five people were arrested, American flags burned and police officers used bicycle barricades and pepper spray to separate demonstrators at the University of Washington's Red Square today https://t.co/0w3YQfujWo

— The Seattle Times (@seattletimes) February 11, 2018
But more than 1,000 counter-protesters showed up to oppose the event.
"I learned that they thought my vote was a hate crime," Kathryn Townsend, who said she voted for Donald Trump in 2016, told Seattle's Q13 Fox.
"I learned that they thought my vote was a hate crime."

– Kathryn Townsend, supporter of President Donald Trump
Some counter-protesters voiced their goals.
"We're here to fight back against the far right and fascism on our campus," one counter-protester said.
Added another: "I'm not a fan of the president, and these people are fans. So I want to come out here and say this is not OK. And what you're doing is not OK."
After several skirmishes broke out, police responded with pepper spray. University of Washington police said those arrested were charged with disorderly conduct.
No officers were injured, they said.
University officials were worried about the potential for violence at the rally, and the school's president had warned students to avoid the area.
The Associated Press contributed to this report.
Source: Fox News