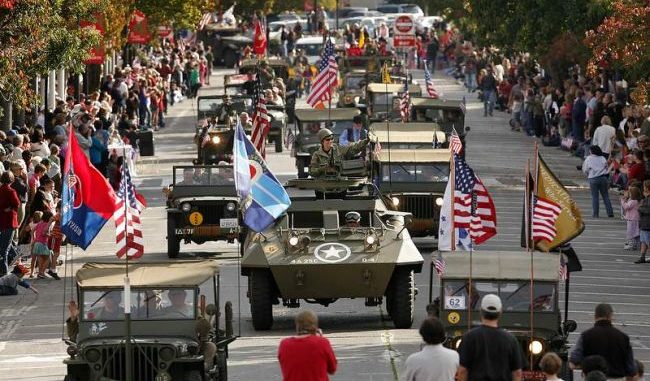 President Trump has said that he wants a parade to honor those who serve in our military, which naturally has liberals melting down from coast to coast.  The hysteria has gotten so bad that leftists are now promising to lie down in front of tanks to keep them from moving.
"We now have nearly 50 Americans who have signed on to lay in front of the tanks of Trump brings out a military parade," activist Arn Menconi wrote on Facebook Wednesday in a gesture he claims was inspired by pro-democracy protesters during the 1989 demonstrations in Beijing's Tiananmen Square.
We now have nearly 50 Americans who have signed on to lay in front of the tanks if Trump brings out a Military parade. We are not an empire drifting towards extinction. Will you join us? Here's the call to action video https://t.co/gqxAoGJmAf
#TrumpParade #militaryparade

— Arn Menconi (he/him) #GreenNewDeal (@ArnMenconi) February 7, 2018
One person asked: "Where's the list to sign up to drive the tanks?"
https://twitter.com/alaska_gurl64/status/961287563074945024
"We would go to Washington, D.C., if such a crazy and insane act occurred and we would lay down in front of the tanks, just like the heroes and the courageous students did in China in 1989," he said in a Facebook video. "They need to hear our voices. This isn't clickbait for the media. This isn't something that the big shots do. This is something that you and I can do."
According to The Wrap:
Menconi, who also made something of a name for himself as a the Green Party candidate in the 2016 Colorado Senate race, said he was prepared to be thrown in jail for his civil disobedience.

"In the next couple of days our voices need to be heard," he said. "This isn't a misdemeanor. This would be a felony charge under Donald Trump. This would mean being thrown in jail, just like the students in China. "

Planning for the parade is said to be in early stages, but MSNBC reported Wednesday that a preliminary date under consideration would be Veterans Day, 2018
Writing at Fox News, talk show host Tammy Bruce countered the left's insanity:
The hysteria the proposed parade has provoked among Democrats and leftists provides even more proof that it's the right thing to do.

Who could argue against a parade that highlights the Americans who defend our freedom and make everything else possible? A military parade would be fun, would honor our vets and would remind the world that America is a superpower and proud of it.

For eight years, President Obama's administration worked hard to tell the world that America was done. He slashed the military's budget and withdrew us from the world. Horrifically, on foreign soil he apologized for and chastised his own country.
"Critics of President Trump's parade idea complain that only tyrants and strongmen want military parades. But President Trump's inspiration was the Bastille Day celebration and military parade he viewed in France – a Western nation with a democratically elected government that no one could accuse of being an oppressive military dictatorship," she added.
Consider the words of Rep. Adam Smith, a Democrat from the state of Washington: "A military parade like this – one that is unduly focused on a single person – is what authoritarian regimes do, not democracies."
For starters, congressman, we're a Republic, not a democracy.
And it's hardly authoritarian to honor those who keep us free on a day set aside for that very purpose.
And as Bruce said, "a military parade celebrating our military is about … our military and the brave men and women who proudly and patriotically defend our country, as their predecessors have done for nearly 250 years."
Liberals on Twitter also melted down, comparing Trump to Hitler.
It's comedic. While US is in constitutional crisis, with WH and COP denigrating FBI, et al, a gov't shutdown looming…our childlike Prez wants a military #TrumpParade like they had in Paris?! Or Pyongyang, Moscow or Hitler's Germany. pic.twitter.com/rvjCE78ZQo

— Nancy – TY GA! Biden/Harris America Rescue (@BowmanNancy) February 7, 2018
On Tuesday, White House Press Secretary Sarah Sanders confirmed that Trump asked the Pentagon to "explore a celebration" of the military, but no plans or a firm date has been set.
As a final note, we'd like to point out that this is the same left that routinely fantasizes and calls for a military coup to remove Trump from office.  Let that sink in.
Source: Conservative Firing Line