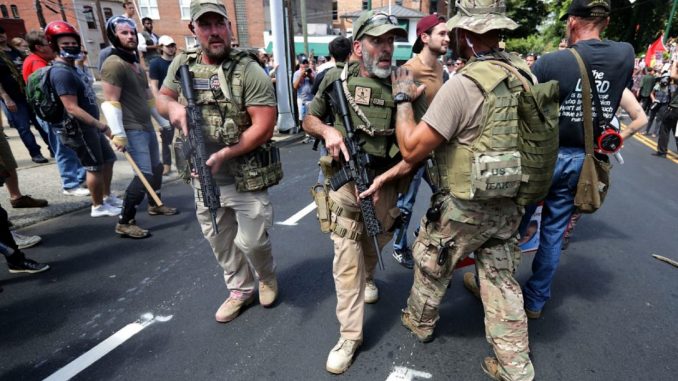 Published at 2:51 PM EDT on Aug 21, 2017 | Updated at 6:54 PM EDT on Aug 21, 2017
New York Light Foot militia commander Commander George Curbelo, whose group trains in the Catskill Mountains, told the I-Team he helped lead a team of 32 "patriots" from six states to Virginia as chaos erupted during a White Nationalist rally Aug. 12.
"We came as a neutral peacekeeping force," Curbelo said.
He said that his group is a constitutional militia whose role is to preserve First Amendment rights of free speech and assembly, even if the message is hateful.
"We despised the white supremacists who showed up. I can't tell you how difficult it was to maintain our discipline with that measure of hate," he said. "But there is no limit in the application of the First Amendment."
"They had a right to be there, but no right to be violent," he said.
Curbelo said many of his 200-plus members chose not to go to Charlottesville because they worried about the danger and of being linked to white supremacists.
"Joe," who didn't want to disclose his last name because of subsequent death threats, said, "I wouldn't be standing next to a militia member if he was a white supremacist."
The militiamen said they tamped down skirmishes until a right-wing group brought in reinforcements and clashes escalated out of control between the marchers and counter-protesters.
"We held back the right and left from full altercation for nearly two hours," Curbelo said.
The militiamen criticized law enforcement for not doing more to keep the peace.
"They were not there for crowd control, but riot control," Curbelo said.
Joe said, "If they're not doing their job, someone has to be there for the average person."
The left-leaning publication "Mother Jones" echoed the militia's sentiment, writing: "The police did little to stop the bloodshed. Several times, a group of assault-rifle-toting militia members from New York State, wearing body armor and desert ammo, played a more active role in breaking up fights."
The governor of Virginia has defended the official role of law enforcement, but also told the New York Times that the men "had better equipment than our state police."
Curbelo said at one point, some of his men who had been attacked and threatened were cornered in an alley and had to be "extracted." They retreated after officers gave orders for the crowd to disperse and were on the way home at the time of the deadly car attack on a young woman.
"It was horrible, the hate at that rally," Curbelo said.
The Southern Poverty Law Center, a non-profit organization that had monitors in Charlottesville, said there was no evidence the militia members were involved in any violence. Still, Legal Director Richard Cohen said, "We just don't need volunteers with guns coming to public rallies. It's a recipe for disaster," he said
"They should stay home," he added.
Curbelo said that's not going to happen, claiming the group has plans to send men to Washington, D.C. for a rally next month.
"Joe" said the group was going to continue its efforts.
"If we don't, who's going to do it?" he asked. "Because in Charlottesville, no one was willing to do it."