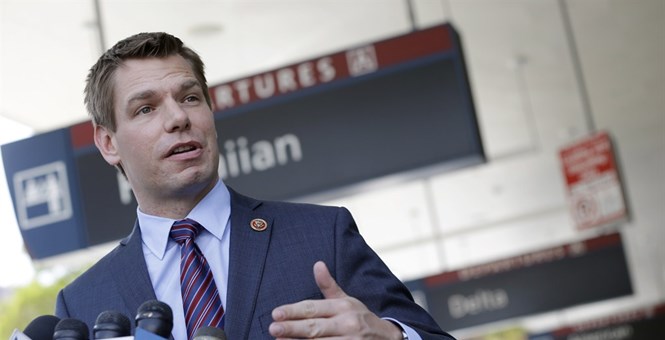 Rep. Eric Swalwell (D-CA) introduced the "Journalist Protection Act" in the House Monday which would make attacking or intimidating journalists a federal crime. Swalwell claims President Trump has created a "toxic atmosphere" for journalists and his legislation is needed for their protection.
The bill makes it a federal crime "to intentionally cause bodily injury to a journalist affecting interstate or foreign commerce in the course of reporting or in a manner designed to intimidate him or her from newsgathering for a media organization," and "represents a clear statement that assaults against people engaged in reporting is unacceptable, and helps ensure law enforcement is able to punish those who interfere with newsgathering."
"President Donald Trump's campaign and administration have created a toxic atmosphere," Swalwell claimed. "It's not just about labeling reports of his constant falsehoods as #FakeNews – it's his casting of media personalities and outlets as anti-American targets, and encouraging people to engage in violence."
Swalwell cited Trump referring to "fake news" reporting by mainstream media outlets as "a stain on America," and some mainstream media outlets as "the enemy of the American People." He also referenced Trump's tweet of a video of himself body-slamming a person with the CNN logo superimposed on the person's head.
"Not all attacks on journalists this year have been committed by Trump supporters," Swalwell admitted, "but the fact remains that rhetoric emanating from the world's most powerful office is stoking an environment in which these attacks proliferate. We must send a loud, clear message that such violence won't be tolerated."
Swalwell's act is co-sponsored by a host of Swalwell's Democratic colleagues, including Reps. Steve Cohen (TN), Eleanor Holmes Norton (DC), Maxine Waters (CA), and Gwen Moore (WI).
Source: Townhall