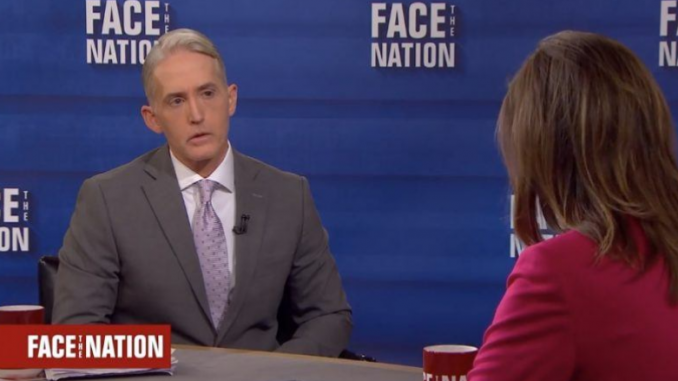 Rep. Trey Gowdy's interview on CBS Sunday opened a lot of eyes as he spoke with honesty and regret at one time, but he also was firm with at least one statement.
Without the Steele Dossier that was used to obtain a FISA warrant to spy on a member of the Trump campaign. The Democrats have been trying to hide that colossal secret claiming that national intelligence would take a huge hit if the memo created by Republicans ever got out. The way I see it is easy. The memo was created to offset what Democrats have been pushing over the last year in the media, in newspapers, on videos, and just about anyone that would allow these progressives time to create a hate narrative against President Trump.
It is important for the American public to know if the dossier was paid for by another candidate, used in court pleadings, vetted before it was used, vetted after it was used, and whether all relevant facts were shared with the tribunal approving of the FISA application.

— Trey Gowdy (@TGowdySC) February 2, 2018
Gowdy said the public would "never know" if the surveillance against Page was justified, saying the warrants relied on three pieces of information — the dossier, a reference to a Yahoo News article and other information available to the FISA court judges who approved warrants.
In an interview with CBS's "Face the Nation," the House Oversight and Government Reform Committee chairman said that while the dossier was not the only information the Foreign Intelligence Surveillance Act (FISA) court used to obtain the warrant, it would not have been acquired without the dossier.

"Would it have been authorized were it not for that dossier?" Host Margaret Brennan asked Gowdy

"No. It would not have been," Gowdy, a former prosecutor, replied.

Gowdy's interview comes after the release of a controversial GOP memo that accuses the Justice Department of abusing its surveillance powers.

"It was not the exclusive information relied upon by the FISA court," Gowdy said in the CBS interview, referring to the dossier.
Gowdy is returning to South Carolina, to do criminal law so he can deal with men and women with integrity: old-fashioned thieves, rapists, and murderers. Gotta be preferable to the swamp dwellers in that hellhole on the Potomac.
Gowdy is getting out of dodge before he loses his mind and he probably is burnt out and fed up because all those hearings the Congressional Committees hear goes nowhere and the committee members do not have prosecutorial authority. Just beating their heads against a brick wall. Useless and a total waste of their time and our tax dollars
Do you see why Democrats want to hide this information? SOUND OFF in the comment section and let me know what your thoughts.
SOURCE: WayneDupree.com