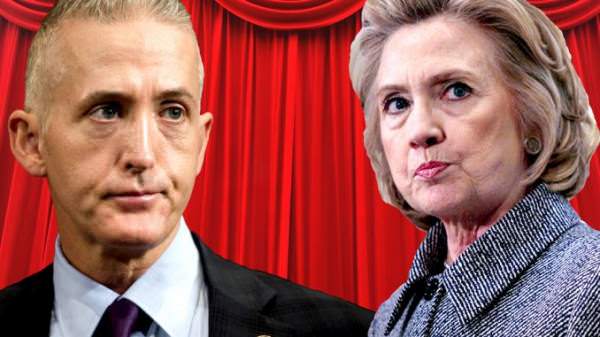 We are seriously wondering at the timing of his stepping down from the Ethics Committee and now retiring from Congress. While Trey Gowdy may have been a Barracuda, he was also the one leading the charge on the investigation into Hillary. As critical thinkers, it would be irresponsible not to ask the question…
What is in that Memo ??
According to The Hill: Rep. Trey Gowdy (R-S.C.), chairman of a key House committee, announced Wednesday that he will not run for reelection.
"There is a time to come and a time to go. This is the right time, for me, to leave politics and return to the justice system," he said in a statement on Twitter.
Gowdy is the tenth GOP committee chairman to head for the exit this cycle.
"Whatever skills I may have are better utilized in a courtroom than in Congress, and I enjoy our justice system more than our political system," he said.
His retirement will breathe life into the fourth district's GOP primary, as no substantial candidate had been willing to challenge Gowdy. The seat is almost certain to remain in Republican hands—
President Trump
won the district by 26 points in 2016 and voters haven't elected a Democrat to the House in that seat in more than two decades.
That fact will give Republicans a sigh of relief as they look at challenging 2018 midterm climate. While Gowdy leaves behind a safe seat, retirements by a handful of other top Republicans in the past few months has helped to expand the House battlefield.
But his departure will have an impact on Republican leadership in Congress.
Gowdy currently leads the powerful House Oversight and Government Reform Committee. His departure will open up a plum position at the top of the committee's GOP leadership — either the chairmanship or the ranking member position if the Democrats win control of the House after the 2018 midterms.
Before that, Gowdy led the House Select Committee on Benghazi, the controversial committee that investigated the 2012 deaths of four Americans stationed in Benghazi, Libya.
The news comes less than a month after Gowdy stepped down from his spot on the House Ethics Committee, citing the "challenging workload" of his committee assignments on top of his chairmanship.
His background in law enforcement as well as his command of the Benghazi and Oversight committees gave Gowdy serious clout in the Republican caucus on those issues and a regular spot on cable news.
But despite that prominence, Gowdy at times faced speculation that he was nearing retirement. Gowdy's office had to push back in 2015 after a speech at a closed-door GOP caucus meeting left some lawmakers raising questions about whether he was planning to leave.
He also bucked entreaties from some Republicans who wanted him to run for a leadership position in the wake of former-Speaker John Boehner's (R-Ohio) retirement, which shook up the GOP leadership team.
There is a time to come and a time to go. This is the right time, for me, to leave politics and return to the justice system. Full statement here → pic.twitter.com/7I8AApqvs1

— Trey Gowdy (@TGowdySC) January 31, 2018
Gowdy on Wednesday did not elaborate about his future plans outside of the reference to the "justice system." He's a former assistant U.S. attorney who served as a county solicitor in his home state of South Carolina before running for Congress in 2010.
Gowdy's name has regularly been tossed around as a potential pick by the Trump administration to fill a judicial appointment. While he's denied that speculation in the past, a vacancy on the 4th Circuit Court of Appeals, which has jurisdiction over South Carolina, opened up just one day before Gowdy announced his retirement.
Gowdy sent out word of his retirement less than an hour after Republican lawmakers headed to a retreat by train crashed into a truck, killing at least one of the passengers of the truck and causing minor injuries to those on board the train. A Gowdy spokeswoman told The Hill that the congressman was not on the train and hadn't planned to attend the retreat.
[adrotate banner="24″]

Widget not in any sidebars