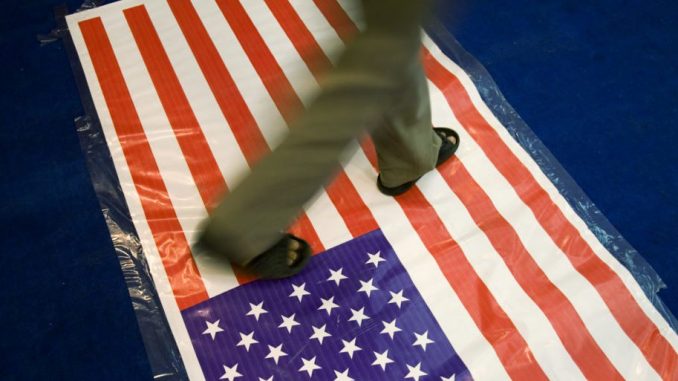 A professor made students step on a painted American flag to enter an art show, according to a Monday report.
Lisa Rockford, an art professor at Broward College in Fort Lauderdale, Fla., painted an American flag white, cut it in half, and placed it like a doormat at the entrance to an art exhibit, reported Campus Reform.
"I have an appointment with the [dean] on February 2nd where he is going to explain why this is ok," said Jess Karcher, a Marine Corps veteran and Broward College student who posted a picture of the display on Facebook. "Until then, this flag is going to be walked on and disrespected until the show is over."
Karcher wrote a letter to Broward president David Armstrong expressing his discontent with the exhibit.
"People are stepping on the flag as they enter most of whom don't realize its an American flag. The artist had a camera set up taking pictures of people stepping on it as part of her art work," said the student. "I find this extremely disrespectful and kick in the gut as a veteran. I have lost many friends whose caskets were draped with that same flag."
Karcher reported that when another professor tried to prevent him from stepping on the flag, Rockford said: "Don't say anything," according to Campus Reform. The veteran noted the art professor was laughing while taking pictures of people stepping on the flag.
Rockford exhibited her American flag doormat at the 2018 Full-Time Faculty Exhibition, an event the school billed as an "eclectic show" featuring photography, sculpture, ceramics, and other forms of art.
The Daily Caller News Foundation reached out to Rockford and Broward College for comment, but received none in time for press.
Source: Daily Caller
[adrotate banner="24″]

Widget not in any sidebars