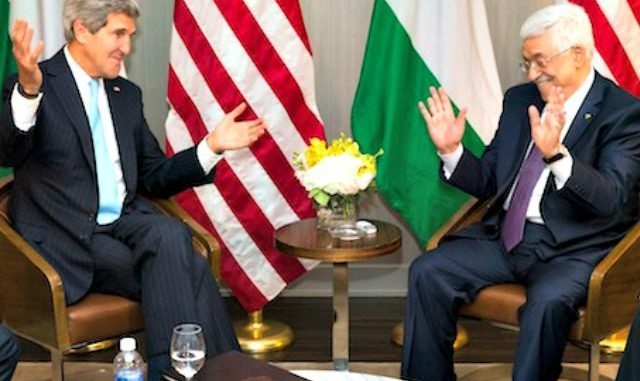 TEL AVIV — Former Secretary of State John Kerry reportedly attempted to sabotage the Trump administration's attempts to broker Israeli-Palestinian peace talks, urging the Palestinian Authority not to "yield to President Trump's demands," and suggesting that President Donald Trump could be out of office within a year.
The report originated with Israel's Maariv daily newspaper, and cited a senior Palestinian Authority official describing a meeting in London between Kerry and a close associate of PA President Mahmoud Abbas, Hussein Agha.  Agha, who helped lead previous talks on behalf of Abbas, related the alleged details of the talk to PA officials, Maariv reported.
Citing his own newspaper, Maariv columnist Ben Caspit wrote in the Jerusalem Post:
During the conversation, according to the report, Kerry asked Agha to convey a message to Abbas and ask him to "hold on and be strong." Tell him, he told Agha, "that he should stay strong in his spirit and play for time, that he will not break and will not yield to President [Donald] Trump's demands."

According to Kerry, Trump will not remain in office for a long time. It was reported that Kerry said that within a year there was a good chance that Trump would not be in the White House.
A spokesman for Abbas did not immediately return a Breitbart News request seeking comment on Kerry's alleged actions.
Fox News reported that the State Department declined to comment on the matter.
In a statement, the Republican Jewish Coalition ripped Kerry's alleged remarks as "reckless."
"John Kerry failed for four years as secretary of state to achieve Israeli-Palestinian peace. Now he wants a second bite of the apple, a bite the American people chose not to give him when they rejected the Obama/Kerry foreign policy in 2016," said RJC executive director Matt Brooks.
"John Kerry is no longer a representative of the American people and his action – conducting a shadow foreign policy – is reckless and undermines the possibility of achieving peace," he said. "The American people chose President Trump, in part, because he promised to pivot away from the failed policies of John Kerry."
Former House Speaker Newt Gingrich expressed doubt that Kerry would have made such comments.
"Kerry knows as a former secretary of state, a former U.S. senator, that kind of advice would be stunningly unpatriotic, and I don't think John Kerry would do something like that," Gingrich said during a segment on "Fox & Friends." "I hope he wouldn't. I would be very, very surprised if a former secretary of state, a former U.S. senator would have said anything that was that overtly anti-American."
Source: Breitbart
[adrotate banner="24″]

[pt_view id="517b65fj16″]