(InformationLiberation) Ugandan President Yoweri Museveni said Tuesday at the East African Legislative Assembly in Uganda that he "loves" President Donald Trump because "he talks to Africans frankly."
"America has got one of the best presidents ever. Mr. Trump. I love Trump," Museveni said. "I love Trump because he talks to Africans frankly. I don't know if hes misquoted or whatever, but when he speaks I like him because he speaks frankly."
"The Africans need to solve their problems. They need to be strong. In the world, you can not survive if you are weak," he said. "And it's the fault of the Africans that they are weak, because they've got this huge continent, if you look at Africa, Africa is 12 times the size of India, in terms of land area, lots of resources, and the population is growing now. Why can't we make Africa strong?"
America has got one of the best presidents ever. I love Trump. He speaks to Africans frankly. Africans need to solve their problems – Museveni #NTVNews pic.twitter.com/2LQcKg1qnb

— NTV UGANDA (@ntvuganda) January 23, 2018
The third purpose for integration is strategic security. Donald Trump speaks to Africans frankly. Africans need to solve their problems. You can't survive if you are weak. It is the Africans' fault that they are weak. We are12 times the size of India, but why are we not strong?

— Yoweri K Museveni (@KagutaMuseveni) January 23, 2018
Either due to lazyness or because it runs counter to the media's fake narratives, no media outlet transcribed his full comments.
For example, the BBC only wrote:
"America has got one of the best presidents ever," Mr Museveni said to laughter during the opening of the East African Legislative Assembly (EALA) in the Ugandan capital of Kampala.

"I love Trump because he tells Africans frankly. The Africans need to solve their problems, the Africans are weak."
They only want Africans to hear Marxist intellectuals telling them to blame all their problems on "whitey" and "racism" and "colonialism."
God forbid they hear a leader like Museveni preach self-reliance.
According to the fake news media, America and the Western world need to take every African in because it would be "racist" not to.
All that will succeed in doing is turning America into a third world s-hole , as the viral video below from Numbers USA explains:
[embedyt] https://www.youtube.com/watch?v=LPjzfGChGlE[/embedyt]
According to the UN's latest population projections, the population of Africa is projected to hit 4 billion by 2100.
On the high end projection, assuming decreasing mortality due to improved health technologies and constant fertility, their population will exceed 15 billion by 2100:
What happens when there is 4 billion Africans begging to be let in to America and Europe?
French President Emmanuel Macron said that while he and Trump's relationship is "very good," he disagrees with Trump allegedly calling these countries "s–tholes," because "it's not a word you can use."
Nonetheless, Macron attracted controversy for saying in July 2017 that Africa's problems are "civilizational" because women are having "seven or eight" kids.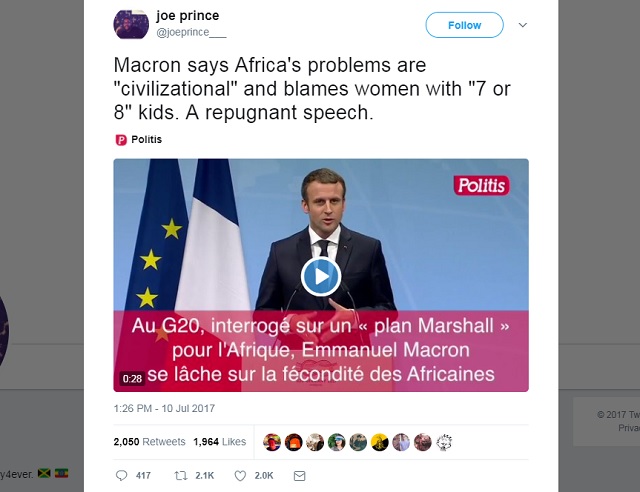 These are real issues which need to be discussed frankly. Instead, our fake news media is working around the clock to stir up fake controversies, racial animus and moral outrage whenever someone dares to broach these topics.
[adrotate banner="24″]

[pt_view id="517b65fj16″]